Do you know what FunMediaTab is?
Here comes another potentially unwanted application and a potential browser hijacker from the Imali Media family: FunMediaTab. We have covered a similar application before in the article about Mysafenewpage.com. These programs come forth saying they can provide you with something useful, but in the end, we realize that the only reason these programs enter our computers is money. Thus, you will not receive anything beneficial from this application, and it will only increase the chances of you getting infected with malware. Please remove FunMediaTab from your system immediately and then protect your PC from similar intruders in the future.
It is easy to mistake this application for a genuine browser extension because it has an official homepage and it can also be found at the Chrome Web Store. If we take a look at the program's homepage via funmediatab.com, you will see that the application offers to help you "watch full episodes" by turning "your browser into TV media centre." Technically, the application should help you stream multiple TV channels on your browser without the need to open the official TV website. However, it is very doubtful whether the program can really live up to its promises. Not to mention that users seldom want to have the application on-board.
So it should not be surprising that the most common way for FunMediaTab to enter your PC is via bundled downloads. This means that the program usually arrives in a software package you download willingly. These software packages can be hosted in a number of third-party file-sharing websites. Users seldom realize the risk behind third-party installers as they go through the installation process automatically. As a result, a number of unwanted applications end up being installed on your computer. And consequently, the possibility that you could get exposed to malicious content only increases.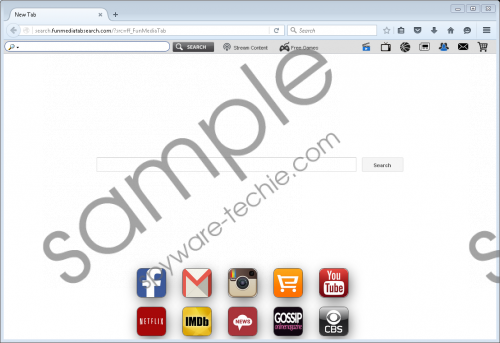 FunMediaTab screenshot
Scroll down for full removal instructions
Aside from adding an extension to your browser, this application also changes your default search engine and the new tab settings. This is why our security experts indicate FunMediaTab as a browser hijacker. The program itself is compatible with the Firefox and Chrome browsers, and it is very similar to Search.realcoolmoviessearch.com, search.searchinsocial.com, search.emaildefendsearch.com, and many other applications that come from the same group. With these modifications present on your browser, each time you access the Internet, you will be redirected to a modified Yahoo! Search page.
That is not to say that Yahoo! Search is in any way related to FunMediaTab. Such applications often make use of established search providers because they do not have a search engine of their own. They simply modify a particular engine so that it would display particular search results. In your case, you will probably see a lot of results related to your most recent browsing history. This way, the application tries to increase the chances of your clicking the result links. After all, by clicking the links provided by the hijacker, you help the people behind it make money. Albeit the practice itself is not illegal, it is unfortunate that you do not get anything in return. In fact, you COULD get something in the return, but that would be just a nasty infection.
Truth be told, it IS possible to get infected with malware if malevolent third parties decide to make use of FunMediaTab. Such applications often get exploited by cyber criminals for malware distribution, and there is nothing they can do about it. Thus, before anything of that happens, please delete the application from your computer.
While you are at it, you should also check for other unwanted programs that might have arrived with FunMediaTab. Scan your PC with the SpyHunter free scanner and you will know immediately whether you have tons of unwanted apps waiting to be removed. Although for the most part, it is possible to delete such programs manually, if you think that manual removal is too tedious, you can terminate them automatically with a security tool of your choice.
If you need any piece of advice on what to do when you encounter browser hijackers and other similar threats, please leave us a comment and our team will reply as soon as possible. Keep it in mind that your computer security should be your utmost priority!
How to Remove FunMediaTab
Google Chrome
Press Win+R and the Run prompt will open.
Enter %AppData% into the Open box and press OK.
Navigate to Local\Google\Chrome\User Data\[USER PROFILE]\Extensions.
Delete the oggfofmiominpbcipogoccafcflcbofd folder from the directory.
Launch your browser and press Alt+F.
Go to Settings and scroll down to the bottom of the page.
Click Show advanced settings.
Scroll down again and click Reset settings.
Click the Reset button.
Mozilla Firefox
Press Win+R and type %AppData% into the Open box.
Press Enter and navigate to Roaming\Mozilla\Firefox\Profiles\[USER PROFILE]\extensions.
Delete the FunMediaTab-the-extension1@mozilla.com.xpi file.
Close the directory and open your browser.
Press Alt+H and open Troubleshooting information.
Click the Refresh Firefox button on the new tab.
Click Refresh Firefox again and press Finish.
In non-techie terms:
Perhaps FunMediaTab sounds like a fun tool, but it is very far from it. This browser extension can also be considered a browser hijacker because it modifies your browser settings and redirects you to unfamiliar websites. This could easily result in dangerous infections, so you need to take care of this immediately. Please follow the instructions above to get rid of the application, and if anything goes wrong, do not hesitate to contact us for assistance.