Do you know what FullAudioConverter is?
FullAudioConverter should convert audio files; however, our research team identifies this program as a bad converter. Although we do not claim that this program will not convert files, we do not think that it will work beneficially. What is more, the services of this potentially unwanted program, or PUP, might be used to hide much more malicious activity, and help spread other infections. Due to this, there is no doubt that it is best to delete FullAudioConverter from your operating system. We warn that such unreliable programs as FullVideoConverterPro, SpeedVideoPlayer, and MegaPlayer require removal as well. If you have analyzed any of these programs, you know that they are introduced in the same manner. Although it is unlikely that you will need to delete these programs at the same time, it is likely that you will need to remove some kind of third-party software.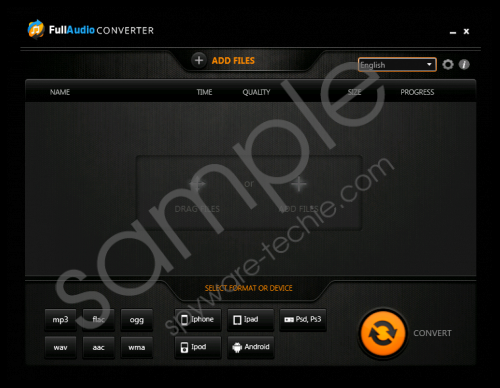 FullAudioConverter screenshot
Scroll down for full removal instructions
Researchers usually acquire FullAudioConverter either from fullaudioconverter.com or from third-party software distributors. In either case, this PUP is likely to come packaged with other programs. For example, the official installer can introduce adware and unreliable Chrome/Firefox/IE toolbars. It is hard to guess what kind of software could be introduced by third-party distributors, but it is possible that it could be malicious as well. If you do not have time to analyze all programs associated with the suspicious FullAudioConverter, you should remove them all. If you choose to analyze these programs, run a malware scanner first. This way you will know which programs are identified as threats and require removal, and which ones are harmless. If you do not this, malware might roam free, and this is exceptionally dangerous for your own security, as well as the "health" of your operating system.
Advertisements promoting third-party services might be introduced by FullAudioConverter or the adware downloaded along with this PUP. In both cases, these ads might be misleading and dangerous to click on, which is why we believe it is best to stay away from them. The representation of suspicious ads, the ability to track your virtual activity, and poor services lead us to believe that users should remove FullAudioConverter from their operating systems. You can uninstall this PUP, and the instructions below should guide the way. If malware exists along with this PUP, we do not want you trying to delete it manually if you are inexperienced. Instead, employ a reliable security tool that will clean your PC automatically.
Delete FullAudioConverter
Delete from Windows 10/Windows 8
Tap Win+R keys on your keyboard to launch RUN.
Type Control Panel, click OK to open this menu, and move to Uninstall a program.
Identify the program you want to remove, right-click it, and choose Uninstall.
Delete from Windows 7/Windows Vista
Locate the Taskbar and click the Windows logo to access the Start menu.
Open the Programs menu and select Uninstall a program.
Identify the program you want to remove, right-click it, and select Uninstall.
Delete from Windows XP
Click the Start menu icon on the Taskbar and open Control Panel.
Double-click Add or Remove Programs and go to Change or Remove Programs.
Identify FullAudioConverter, select it, and click Remove.
In non-techie terms:
Although FullAudioConverter might offer reliable services, this program deserves removal because it was found showing suspicious ads. On top of that, it can record your activity, which is strange as well. Fortunately, this potentially unwanted program is not a complex piece of software that only experienced computer users would be able to tackle. On the contrary, you should be able to delete FullAudioConverter using simple uninstall steps. What if other programs exist and they are much more complicated and dangerous? If so, you should use an automated malware removal tool without further hesitation. Start a discussion below if you have questions.