Do you know what FuckTheSystem Ransomware is?
FuckTheSystem Ransomware is a computer infection that seems to be rather underdeveloped. When we talk about ransomware programs, we imagine infections that lock you out of your computer, encrypt your files and then demand that you pay a lot of fine for the file decryption. However, this program in question does not do that. At least not everything. And it is also very easy to remove FuckTheSystem Ransomware from your system because you do not have to worry about restoring your files. It is possible to get your data back as the program already comes with the decryption key.
Perhaps here you might wonder: What is the point of such a program, then? Well, our research team also says that the program is not much of a threat. The team says that FuckTheSystem Ransomware comes from the s-called Stupid Ransomware family. Now, why would anyone call a malicious program "stupid?" That is obviously because the application does not live up to its reputation. If a ransomware app encrypts the files, then the files should remain encrypted. Otherwise, they would not be able to receive the ransom money. However, this program in question cannot guarantee that because it already gives the affected users the way to deal with this issue.
So how exactly is this program stupid? FuckTheSystem Ransomware is based on an open source code that allows almost anyone to create their own infection. What's more, this code already comes with a decryption key in it, so anyone infected with a program based on such a code do not even need to look for a public decryption tool. You will find the code you need to enter into the Password right below this description, in the manual removal instructions. Hence, you do not need to worry about restoring your files from an external backup.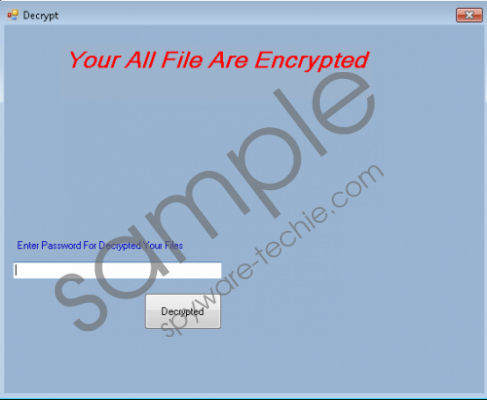 FuckTheSystem Ransomware screenshot
Scroll down for full removal instructions
Normally, this is what we would recommend that users do. Backing up the files, that is. Whether you save copies of your files on an external hard drive or upload them on some cloud storage, the most important thing is that you have copies of your data in the case of a malicious infection. In fact, although FuckTheSystem Ransomware does not cause irreversible damage, backing up your data is something you should consider doing on a regular basis because you can never know when an extremely dangerous ransomware might come your way.
Now, as far as this program is concerned, it makes use of the AES encryption algorithm to encrypt your files. It also targets a long list of file types, as you can see from the list of compatible extensions below:
.3gp, .7z, .apk, .avi, .bmp, .cdr, .cer, .chm, .conf, .css, .csv, .dat, .db, .dbf, .djvu, .dbx, .docm, ,doc, .epub, .docx .fb2, .flv, .gif, .gz, .iso .ibooks,.jpeg, .jpg, .key, .mdb .md2, .mdf, .mht, .mobi .mhtm, .mkv, .mov, .mp3, .mp4, .mpg .mpeg, .pict, .pdf, .pps, .pkg, .png, .ppt .pptx, .ppsx, .psd, .rar, .rtf, .scr, .swf, .sav, .tiff, .tif, .tbl, .torrent, .txt, .vsd, .wmv, .xls, .xlsx, .xps, .xml, .ckp, .zip, .java, .py, .asm, .c, .cpp, .cs, .js, .php, .dacpac, .rbw, .rb, .mrg, .dcx, .db3, .sql, .sqlite3, .sqlite, .sqlitedb, .psd, .psp, .pdb, .dxf, .dwg, .drw, .casb, .ccp, .cal, .cmx, .cr2.
When the encryption is complete, the program will add the .anon extension to the filenames of all encrypted files. So it will be really easy to see just which files have been affected by the ransomware app. From there, we would usually expect a ransomware program to drop a ransom note. Perhaps there would be a notification on your screen that would say your files have been encrypted and now you are given limited time to transfer a particular amount of bitcoins (digital currency) to the given anonymous address. Now, does FuckTheSystem Ransomware do that? Not in the slightest. Instead, it drops a pop-up that says "Your All File Are Encrypted," and at the bottom left of the pop-up you have a box that says "Enter Password For Decrypted Your Files." If you open the password given in the removal instructions below, all of your files will be decrypted at once.
In a sense, FuckTheSystem Ransomware works more like a scare tool, rather than a decent ransomware infection. At the same time, you can learn more about ransomware distribution, and how to avoid similar apps in the future.
Please refrain from opening unfamiliar files and attachments from unknown senders. Even if the sender looks reliable, you should always double-check. Please remember that reputable firms avoid sending attachments because they are aware of the security risks associated with them.
You should also run a full system scan with the SpyHunter free scanner because there might be more potential threats on your computer. Delete all the dangerous programs right now, and if you have more questions, feel free to leave us a comment.
How to Delete FuckTheSystem Ransomware
Type hexobon into the Password box and hit Enter.
Go to your Downloads folder.
Remove the most recently downloaded files.
Run a full PC scan.
In non-techie terms:
FuckTheSystem Ransomware is an annoying infection that encrypts your files thus barring you from opening them. Luckily, you can use a decryption code that comes with this program, and all of your files will be accessible again. Please remove this program and everything associated with it from your system immediately. The fastest and the most efficient way to do that would be investing in a licensed antispyware tool.