Do you know what FreeShoppingTool Toolbar is?
FreeShoppingTool Toolbar is a piece of software that is promoted as a useful shopping tool for those who want to save time and money while shopping online. It promises to inform users about the hottest deals and prices every day, enable users to get coupons and promo codes easily, and, finally, provide product comparison. While the application does look really useful, you should ask yourself whether you really want to discover your New Tab page hijacked. Yes, FreeShoppingTool Toolbar alters New Tab page settings on all affected web browsers once installed. To be more specific, you might find changes applied to your Mozilla Firefox and Google Chrome browsers. As a consequence, that new page will be opened automatically when you launch your web browser. If you like your default New Tab page and do not want it to be replaced by the page FreeShoppingTool Toolbar promotes, you should not install this piece of software on your computer. In case you have already done that and your browser's settings have been changed, you should remove this browser plugin to undo the changes applied. FreeShoppingTool Toolbar is not some kind of serious threat that can only be erased with an antimalware scanner. This piece of software has been classified as a potentially unwanted program by researchers. These programs can be removed quite easily. In case you have not deleted any undesirable program before yourself, feel free to use our instructions provided right below this article.
If you install FreeShoppingTool Toolbar on your computer, it will apply changes to the web browser you use immediately. As mentioned, you will find your New Tab page altered. The page promoted by FreeShoppingTool Toolbar shares similarities with ordinary search providers, but, unlike the majority of search tools, it contains a toolbar at the top with a search box and buttons that lead straight to third-party shopping-related websites. Some of these pages are affiliated with Mindspark Interactive Network, Inc., the company that has developed and released FreeShoppingTool Toolbar. For example, if you click the button to open Trip Advisor, you will first get redirected to https://redirect.viglink.com/?key=153fb00bceb548f97c07ccac76178d92&u=www.tripadvisor.com before you reach that page. Specialists have serious doubts about the trustworthiness of the search provider FreeShoppingTool Toolbar promotes too. The search box the page set by this browser plugin contains is powered by myway.com. It redirects searches to Google, but search results might still be modified by the browser plugin before they are displayed to users. In other words, users might be presented with sponsored links. As you can see, there is nothing really malicious about FreeShoppingTool Toolbar, but it still has noticeable drawbacks, so our piece of advice for you would be to get rid of this potentially unwanted program. More beneficial tools that can help to save money and time exist, so we would give one of them a try instead if we were you.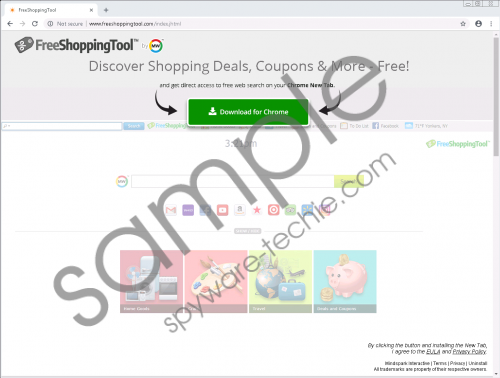 FreeShoppingTool Toolbar screenshot
Scroll down for full removal instructions
FreeShoppingTool Toolbar can be downloaded directly from its official website http://www.freeshoppingtool.com/index.jhtml; however, not all the users who find this application installed on their computers do that consciously. Some of them do not know anything about its installation, so our specialists have decided to dig into its distribution. Research has shown that users might also be presented with pop-ups and other types of commercial advertisements promoting FreeShoppingTool Toolbar while surfing the Internet. One click on such an advertisement might result in the installation of FreeShoppingTool Toolbar, so it is not a surprise at all that you do not know anything about its installation. Also, potentially unwanted programs are often distributed bundled, so if you have recently downloaded and installed new software from the web, there is a possibility that FreeShoppingTool Toolbar has been installed on your computer together with it.
You do not need to keep FreeShoppingTool Toolbar installed if you do not like it or you have simply found it useless. FreeShoppingTool Toolbar is installed on browsers as a browser extension, so you could delete it with a single click after you access the add-ons manager. Our instructions (see below) will show you how to do that.
How to remove FreeShoppingTool Toolbar
Mozilla Firefox
Start Mozilla Firefox.
Type about:addons in the URL bar and press Enter.
Select the FreeShoppingTool extension.
Click the Remove button next to it.
Google Chrome
Start Google Chrome.
Tap Alt+F to access the main menu and then select More tools.
Click Extensions.
Locate FreeShoppingTool.
Click Remove next to the add-on.
In non-techie terms:
FreeShoppingTool Toolbar is presented as a useful application for those who shop at online stores, but it has several drawbacks that make it a potentially unwanted program. Therefore, if you have not installed it yet, we would say that you should dismiss the idea of installing it. If you still decide to install it on your PC, your browser's settings will be changed. Be ready for that. Additionally, you might be presented with sponsored links promoting third-party services and/or products.