Do you know what FreeRadioCast Toolbar is?
FreeRadioCast Toolbar is a malicious application that can put your computer's security in jeopardy if it continues to remain on your computer. We are of the opinion that this toolbar should be removed as soon as possible. But you can be the judge of that. This article contains the most relevant information about this infection presented in simple terms. So if you want to learn more about FreeRadioCast Toolbar, please continue reading.
FreeRadioCast Toolbar is presented as a browser extension for the music fan. It is claimed that you can listen to almost 1500 online radio stations, watch official music videos, and listen to music streams and podcasts. All of it sounds well and good, but why have a toolbar that is just a collection of links? The developer of this toolbar offers nothing unique to the user experience. Why bother with this application? Let us lift the veil on what this application truly is. The toolbar consists of six tabs.
The first tab deals with technical and judicial information regarding the toolbar. For example, the developer claims that the application is not spyware, which is true, because spyware does not masquerade as toolbars. Their aim is to remain low key. The second tab contains links to music video websites, such as Vevo. The third tab features music news-related links to various websites, such as Music-news.com, Hype Machine, and a few others. The fourth tab consists of links that allows users to listen to music for free. The fifth is associated with podcasting, and the last one is full of miscellaneous links, such as MetroLyrics and MusicPopQuiz.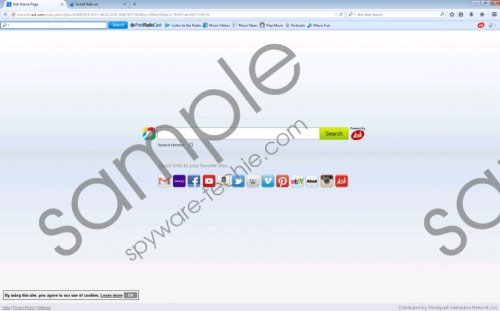 FreeRadioCast Toolbar screenshot
Scroll down for full removal instructions
However, the toolbar does collect some information about the users if they use the search engine, which comes together with the toolbar. You have the ability to decline the offer to change the search engine but very few people do, since many of them just rush through the installation process. The result is a customized Ask.com search engine that collects information such as browsing and search data in addition to the information you provide willingly. This information can be shared with third parties. Whether this is good or bad is for you to decide, by we think that this application should be removed immediately.
We hope that the information provided in this article was enough for you to see how unreliable it really is. It may seem like a good idea to have FreeRadioCast Toolbar if you are a music fan, but cyber security is more important than a set of links. You can remove the application using the instructions at the end of this article. Please do not hesitate – take action!
FreeRadioCast Toolbar manual removal guide
Mozilla Firefox
Simultaneously tap Ctrl+Shift+A and select Extensions.
Find and remove FreeRadioCast Toolbar.
Microsoft Internet Explorer
Simultaneously tap Alt+T and select Manage Add-ons.
Find and remove FreeRadioCast Toolbar.
Google Chrome
Simultaneously tap Alt+F and select More Tools.
Click Extensions, Find and remove FreeRadioCast Toolbar.
In non-techie terms:
FreeRadioCast Toolbar is a bad toolbar that has been developed to promote a certain search engine that collects information and promotes the websites of the partners that are associated with the developers of this application. This application can compromise the security of your computer and you identity, so we recommend that you remove it soon as possible.