Do you know what Freemium is?
Freemium is a data recovery application which is available at freemium.com or through a toolbar that bears the same name. If you have installed Freemium toolbar, you are probably aware that it is based on Conduit platform, which is widely used by a great number of software publishers and developers. Freemium, also known as Freemium toolbar, is available at freemiumen1.ourtoolbar.com, and is bundled with several free applications. Moreover, it promotes the famous search engine search.conduit.com, which is one of the reasons why you may like to remove Freemium from the PC. If you do not know how to remove the toolbar from your Internet Explorer, Google Chrome, and Mozilla Firefox, then keep on reading to find out what you should do next.
Freemium, the toolbar, contains links that are typical of Conduit toolbars. For example, it has a radio player, an e-mail notifier, and a button that allows you to check whether forecasts, which are installed by default. The toolbar also promotes Value Apps, which are browser add-ons that generate search-based coupons, discounts, and special details while the user is browsing shopping websites. Additionally, there is a button which takes the user to amazon.com.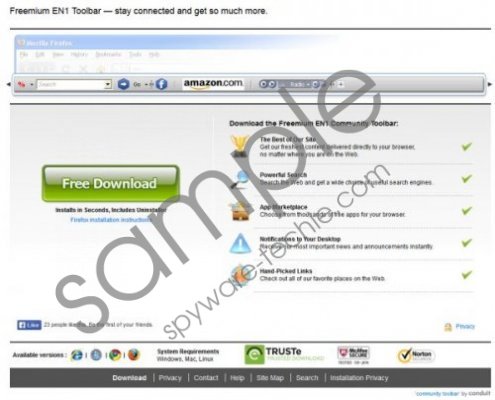 Freemium screenshot
Scroll down for full removal instructions
Freemium also comes bundled with Wajam, which is a browser add-on that displays social recommendations from Facebook, Twitter, and some other social networks. The application may use cookie, pixels, and other technologies to obtain your IP, the URLs of the websites that you visit, and other non-personally identifiable information. When installing Freemium, you have no choice but to install the application and can remove it only after all the programs are installed.
If you do not like the toolbar, do not hesitate to remove it from the PC. Note that it can access your information on various websites, access and read your bookmarks, record your browsing history, manage your applications, extensions, and themes. What is more, it can communicate with other applications.
As to the search engine, the installer of Freemium claim that the search engine that will change the home page and search provider is Trovi Search; however, search.conduit.com is set instead. The start-up page shows display advertisements, which are not related to the search terms and differ greatly. You may be invited to play an online game, download a computer application, or visit some websites. Even though you can find reliable and safe websites, you should not trust every single advertisement. Some of the ads may take you to insecure websites, not to mention the sponsored links provided on the search result page.
In order to restore your former settings, you should implement a powerful spyware removal tool. You want to be sure that Freemium is fully removed from the system; moreover, the system needs protection from various computer threats. If you do not have a reliable anti-spyware tool, it is time to get one in order to shield the system from adware, spyware, and many other malicious computer threats.
How to remove Freemium
Windows Vista and Windows 7
Open the Start menu and click Control Panel.
Select Uninstall a program.
Remove Freemium and the other additional programs that you have installed alongside the toolbar.
Windows XP
Click the Start button.
Select Control Panel.
Click Add or Remove Programs and remove the unwanted applications.
Windows 8
Press Win+R and type in control panel.
Click OK.
Select Uninstall a program.
Uninstall the unwanted programs.
Remove Freemium from browsers
Internet Explorer
Press Alt+T and click Internet Options.
One the General tab, change the home page if necessary.
Press Alt+T and click Manage Add-ons.
Click Search Providers, remove the unwanted search provider and set a new one.
Mozilla Firefox
Press Alt+T and click Options.
Change the home page on the General tab.
Press Ctrl+Shift+A and click Extensions.
Remove the unwanted browser add-ons.
If necessary, change the home page after clicking on the search engine icon next to the search box.
Google Chrome
Press Alt+F.
Go to Tools and click Extensions.
Remove the extensions that have not been removed automatically.
Press Settings on the left side of the browser window.
Under On startup, select the last option and click Set pages.
Set a new startup page.
Under Appearance, edit the settings of the home button.
Under Search, click Manage search engines and set a new search provider.
In non-techie terms:
Freemium, or Freemium toolbar, is a browser extension which can change the settings of the browsers and provide you with various advertisements. In order to remove it from the PC, follow the instructions below or implement a powerful spyware removal tool.
Aliases: Freemium toolbar.