Do you know what FreebieCo is?
FreebieCo is supposed to be a desktop application that provides you with a feed of freebies, but our researchers have identified it as a clone of Weather Do, Flexible Family, and Leading Videos, which are all ad-supported applications from the same group. This adware may be annoying with its show of useless advertising sites and third-party ads, but the real issue here is the reliability of the content coming from this program. It is possible that cyber criminals exploit this application due to its low security level and its capabilities, not to mention the possibility that this software may collect information about you and share it with its potentially unreliable affiliated third parties. All in all, we consider this adware a potential threat source on your system. We suggest that you remove FreebieCo if you wish to restore your computer's security.
The promotional webpage of this annoying program can be found at freebieco.com. According to our researchers, visiting this page could hold risks. First, this page hosts a couple of potentially unreliable third-party ads. If you happen to click on these, you may be redirected to unreliable websites. Second, if your computer is protected by up-to-date security software, you may not be able to view the page at all because it gets blocked right away as a potential threat. Our researchers suspect that this can be due to the InstallCore downloader this page hosts. This downloader actually bundles a number of threats on top of this adware. We have found MyPcBackUp, System Healer, and Search Know among others travelling in this downloader. But these infections seem to be dependent on your location, so it is possible that you will find other malware programs on your computer. Obviously, it will not be enough for you to delete FreebieCo alone in this case. Unless you clean your computer completely of infections, you will not be safe whenever you switch on your PC.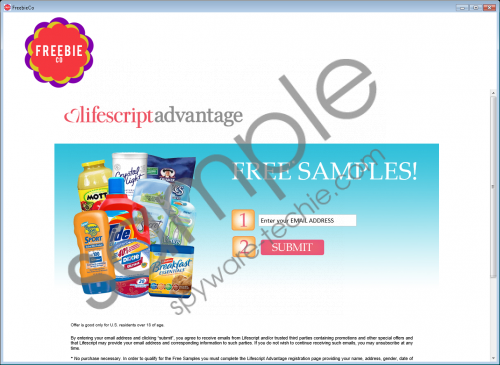 FreebieCo screenshot
Scroll down for full removal instructions
However, if you can access this page, you can also download this useless adware. After you download it, the webpage redirects you to lamphouseoffers.com/redirect.php?sid=BMS&message=Please%20wait and opens casino, surveys, and offers webpages. In other words, you will be exposed to unreliable third-party web content that could hold serious virtual security threats for you and your computer. But the likelihood of users downloading this application from this source is way lower than through other alternative routes.
Our research shows that FreebieCo is mostly downloaded through infected third-party ads that pose as download offers. These are mainly pop-ups generated by either adware hiding on your system or suspicious file-sharing websites. One click and you may let a whole bunch of threats onto your computer. Therefore, you can never feel safe even if there is only one adware application on your PC. But it is also possible that you click on a manipulated search result generated by a browser hijacker. As you see in both cases your computer may be infected with malware, which can cause more infections. That is why it is so important that you delete FreebieCo and identify all other threats to clean your system properly.
When you launch this application, it opens up the usual GUI that we have seen a number of times from its predecessors. The main characteristic of this window is definitely the large logo at the top, which is, of course, different in every case and changes with the themes. This application claims to provide you with a flow of freebies. But what it really does is that it loads a potentially unreliable advertising page, such as rewardsclubonline.net that may redirect to other suspicious websites. It is also possible that it opens an Internet Explorer window and loads various coupons and offers. You should not engage with any of these if you want to save yourself from some unnecessary headaches. It is possible that you will see an offer that actually draws your attention because it seems relevant to you. But be warned that this can easily happen because this adware may be able to gather data about your browser habits and online behavior. Based on this information, customized ads can be sent through this program to attract you and make you click. This application makes money by the number of clicks. Therefore, you should not trust any content that originates from this adware. As a matter of fact, you should remove FreebieCo before it is too late.
In order to clean your computer of this threat, you can simply run its uninstaller via Control Panel. Our research shows that it leaves no leftovers on your system, so it is perfectly safe to use it. If you do not know how to uninstall a program, please follow our instructions below. Keeping your computer protected should be a priority if you do not want to become a victim of malware threats and cyber criminals. There are several things that you can do to prevent these infections from entering your PC. But we have found that nothing is more effective than the use of a professional anti-spyware program. If you install one, keep it active and updated for best performance.
FreebieCo Removal from Windows
Windows 8, Windows 8.1, and Windows 10
Press Win+Q and enter Uninstall a program. Press Enter.
Click on the uninstaller and press Uninstall.
Windows Vista and Windows 7
Press Win+R and enter control panel. Press OK.
Access Uninstall a program.
Click on the uninstaller and press Uninstall.
Windows XP
Click the Start button and select Control Panel.
Pick Add or Remove Programs.
Click on the uninstaller and press Remove.
In non-techie terms:
FreebieCo is a useless and questionable desktop program that may pose a threat to your system security by the content it may introduce you to. We do not recommend that you engage with anything that comes from this adware. Unfortunately, its presence can be a sign of other malware infections on board. Therefore, you need to be prepared to face multiple system security threats. Leaving this situation unsolved, you may endanger your operating system as well as the security of your sensitive information and data stored on your computer. If your privacy and virtual security are important to you, we believe that you should not hesitate to remove FreebieCo from your computer along with all other potentially unsafe applications. If you are looking for an effective way to clean your PC and keep it protected, we advise you to install a reliable anti-spyware application.