Do you know what Fragile Fixer is?
Fragile Fixer will not fix anything; on the contrary, this advertisement-supported program is the reason the health of your computer has been compromised. We suggest that you remove this application because it does not have any specific function that you will find of any worth. Fragile Fixer is developed by SuperWeb LLC with one and only one purpose in mind: to entice you to click on the featured material. In other words, the moment you install this application in your computer, it will start flashing all forms of advertisements on your screen. It is not only completely distracting, but also unsafe; therefore, you should not waste your time putting up with this nuisance of a program and delete it immediately.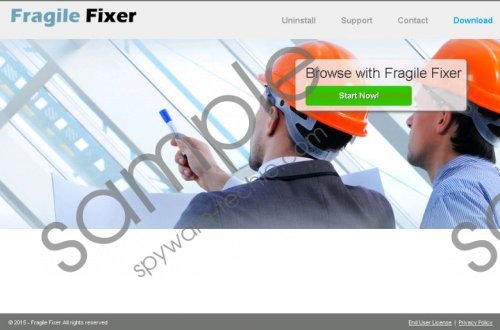 Fragile Fixer screenshot
Scroll down for full removal instructions
Fragile Fixer is a free program that promises to "enhance the browsing experience, from searching the web to comparing online deals to find the best prices"; it is another way of saying, "We are going to bother you with commercial content." You can terminate this stream of pop-ups, banners, coupons, and discount information, tagged with names like "Ads by Fragile Fixer" or "Provided by Fragile Fixer," by choosing to delete Fragile Fixer from your computer. The aim of this application is to transfer you to the endorsed third-party sites, but not all the time the endorsed links deserve your trust. You should be extremely cautious because it is not uncommon for computers to end up infected with malware when such advertisements are clicked on.
Besides showing unreliable content, Fragile Fixer will also employ specific tools to monitor your online activities, an activity which should raise suspicion, especially when executed by the program which comes from unreliable sources. The already-mentioned SuperWeb LLC is a notorious adware application developer which has already spawned a large number of identical applications with the same suspicious functionality. It is best that you remove Fragile Fixer and avoid any applications from this developer in the future.
The applications that belong to the so-called SuperWeb family share many characteristics, the most important being that they are likely to reach target computers in a company of other software, sometimes even malicious software. Thus, an automatic antimalware tool is unsurpassed in cases when you need to remove more than one possible infection. We recommend that you invest in this kind of software because it will make your Internet surfing infection-proof.
It is known that the newer version of Google Chrome blocks this application, which is already an indication that this application is malicious. However, if your default Internet browser is Internet Explorer or Mozilla Firefox, you will need to remove it by taking advantage of the said antimalware tools or choosing the manual approach. If you want to delete Fragile Fixer by yourself, which we do not recommend, follow the instructions below.
How to remove Fragile Fixer
From Windows 8 and 8.1
Open the Charm bar and then choose Settings.
Go to Control Panel.
Choose Open Programs and Features.
Highlight the unwanted program.
Click Uninstall/Change.
From Windows 7 and Vista
Open the Start menu and then go to Control Panel.
Under View by, choose Category.
Go to Programs and click Uninstall a program.
Choose the unwanted program.
Click Uninstall/Change to remove.
From Windows XP
Open the Start menu and then choose Control Panel.
Open Add or Remove Programs.
Click on the unwanted program.

Click Remove.
In non-techie terms:
Fragile Fixer is an adware application which, by displaying advertisements in your Internet browser, might expose you to the threats that can reside on third-party sites. If you do not want to be bothered by ads on your screen and risk infecting your computer, install a trusted malware removal tool to remove this adware application from your computer.