Do you know what Flying Deals is?
Flying Deals is an adware type application designed exclusively to display commercial advertisements while you are surfing the World Wide Web. Apart from that the program does absolutely nothing. But, you should remove this program not only because it shows you ads, you should remove it, because the content it promotes could pose a serious security threat to your computer.
Have you ever heard of SuperWeb? If not, than you should know that it is one of the leading adware developing companies out there. The company has been credited with developing numerous clone-like infections similar to Flying Deals. Some of their latest "masterpieces" includes the following: First Color, Ski Search, Banana Phone, Assist Point and Coupon Time. Note that you ought to remove these infections as well provided that your computer has been infected with any one of them.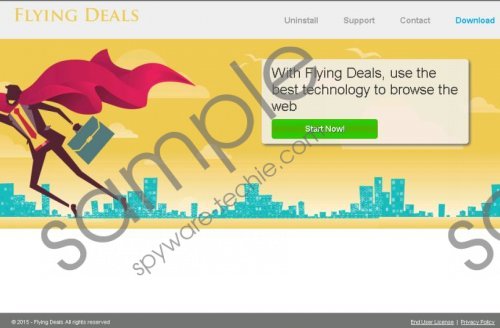 Flying Deals screenshot
Scroll down for full removal instructions
Like all infections developed by SuperWeb, Flying Deals has its own promotional website that features some meaningless information about how great your life will be if you download this app. The website features a download button, but you can't download it from there, because it simply does not work. Flying Deals utilizes an alternative method for dissemination called bundling, which is quite common for adware. Bundles that contain Flying Deals can be found on websites such as Soft32.com, Brothersoft.com, Softonic.com, and so on. But nonetheless, you can remove Flying Deals from the installation process by unchecking the checkbox after choosing custom/advanced installation settings.
However, if your computer gets infected with Flying Deals it will display various commercial advertisements on your browser. You should remove this adware app, because it is both annoying and dangerous. It connects to the internet without your permission, and displays various pop-ups, coupons, in-lines, and so on. The ads promoted by this program pose a significant threat to your computers security, because they are supplied by third parties. Due to the fact that its developers to not endorse the content they promote, shady advertisers are obliged to promote fake and misleading ads that could contain links to infected websites that could infect your PC with malware.
Therefore, you should remove this application, because the consequences it might inflict could be severe. Indeed, it might be very difficult to remove hazardous infections such as Trojans, because they cannot be removed manually. So, do not hesitate and remove Flying Deals using our manual removal guide below.
How to remove Flying Deals from your operating system
Windows 8/ Windows 8.1
Open the Start Screen.
Type Uninstall in the search box and then go to Settings.
In the search results, click Uninstall a program.
Find Flying Deals.
Click Uninstall.
Windows 7/Windows Vista
Click Start.
Select Control Panel.
Click Uninstall a program.
Find Flying Deals.
Click Uninstall.
Windows XP
Open the Start menu.
Click Control Panel.
Select Add or Remove Programs.
Find Flying Deals.
Click Uninstall.
Remove the Flying Deals browser extension
Microsoft Internet Explorer
Press Alt+X.
Select Manage Add-ons.
Select Toolbars and Extensions.
Click Remove Flying Deals and click Close.
Mozilla Firefox
Press Ctrl+Shift+A.
Choose Extensions.
Click Remove Flying Deals.
In non-techie terms:
Flying Deals is an adware type application designed to display unreliable third-party ads. it has been created by the SuperWeb LLC that specializes in developing adware. We recommend that users remove this infection, because the ads could be provided by shady advertisers who promote various infected websites that could infect their computers with malicious applications.