Do you know what FLV Blaster is?
If you have recently installed a video download called FLV Blaster and are experiencing problems with it, then we want to make you aware that it is actually a potentially unwanted program that you ought to remove. It is an unreliable program that can download additional programs without your consent. Furthermore, this program contains a browser extension that might display third-party advertisements on your browser's screen. On top of that we know that this program is apt to constantly crash, making a very frustrating program to have.
Let us begin analyzing FLV Blaster by shedding some light on its origins. Information provided on Cnet.com shows that this video downloader has been published by Howard Software. This company has its own website at Howardsoftware.com. It was started in 2011 and since then has been developing highly questionable software. FLV Blaster is not promoted on its developer's website. It has its own dedicated download website at Flvblaster.com. But its developers did not limit themselves to only setting up a dedicated website. Our security analysts say that this program can also be downloaded from Software.informer.com and Cnet.com. On a side note, FLV Blaster even has its own Facebook fan page which has a whopping 777 fans.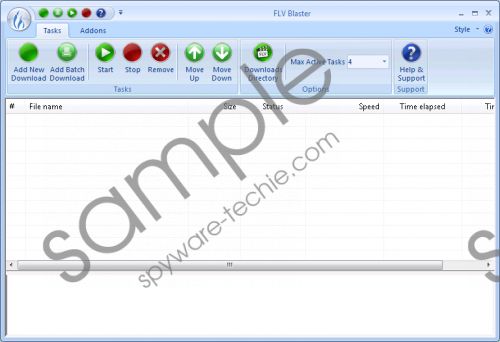 FLV Blaster screenshot
Scroll down for full removal instructions
Now let us move on to more relevant information. Our researchers have downloaded and tested this program. Their findings were not very surprising as we actually expected to see something like this. So, the research shows that FLV Blaster can secretly download adware-type programs. It is likely that the adware may come from the Multiplug adware family. We found that it can also get the Findwide Toolbar installed on your computer. It is an unreliable toolbar so you ought to remove it as well. After installing FLV Blaster you can also add its browser extension to Internet Explorer, Chrome, and Firefox. The extension seems useless, and we think that its only purpose is to display advertisements, because the developers have to get paid somehow. We have found that this program is likely to have stability problems as well. Our researchers say that FLV Blaster constantly crashes when trying to download a video. So, all things considered, this video downloader is a very poor investment. The Internet is full of video downloaders such as FLV Blaster, so finding an alternative should not be that hard.
As you can see, FLV Blaster definitely deserves to be called a potentially unwanted program. It can compromise your computer's security by allowing adware to it. Its browser extension may also show third-party ads. But the main deal breaker is this programs unreliability. Keeping a program that does not work as it should is pointless, so feel free to remove this video download manager and if you really need one try looking for an alternative. There are plenty of programs to choose from, just stay vigilant and try not to get a program similar to this one. You can always search our website to find more information about a particular potentially unwanted program or malware.
Uninstall FLV Blaster
Windows 10/8.1/8
Right-click on the Start menu.
Go to Programs and Features.
Locate FLV Blaster and Uninstall it.
Windows 7/Vista
Simultaneously press Windows Key+R.
Type Control Panel and then click OK.
Click Uninstall a program and locate FLV Blaster.
Right-click on it and click Uninstall.
Windows XP
Open the Start menu.
Click Control Panel.
Select Add or Remove Programs.
Locate FLV Blaster and click Uninstall.
In non-techie terms:
Our researchers have concluded that FLV Blaster is a potentially unwanted program, because it carries additional software that is installed soon after installing FLV Blaster. The programs it comes bundled with are regarded as adware so they are highly unreliable. Furthermore, FLV Blaster fails to adequately perform its main task which is to download videos from the Internet. All things considered, you might want to remove this downloader.