Do you know what Flowsprit is?
Flowsprit is a potentially unwanted program (PUP) that connects to the Internet without your permission, and auto-starts with Windows. You must have installed this application together with some other program. The tool's menu is entirely in Chinese, so unless you are fluent in the language, it is safe to assume that the program arrived at your computer bundled with some other applications. You can remove Flowsprit following the manual removal instructions provided right below this description. There are a lot of programs out there that are far from being direct security threats, but if you did not want to have them, it is best to get rid of them.
It is always possible to avoid installing such programs on your system, but users seldom are aware of the potential security threats they encounter when they browse unfamiliar websites. Our research team says that Flowsprit uses silent installation, and it means that it does not inform users in any way that it is about to be set up on their systems. So it is very likely that you do not even need to download a freeware bundle to get this program on-board. You might just access some Chinese website, and there could be a pop-up that automatically initiates the installation.
Whichever way it might be, it is clear that Flowsprit exhibits obnoxious behavioral patterns, and we should not tolerate them. What's more, it is not a question of what program this application comes with. It is more like, what does it bring along? During our tests, we have found that the application is heavily bundled itself. Thus, it can install many other applications on your computer, and that could eventually slow down your system. The system performance can become extremely sluggish if you have a lot of unnecessary programs that hog the system resources.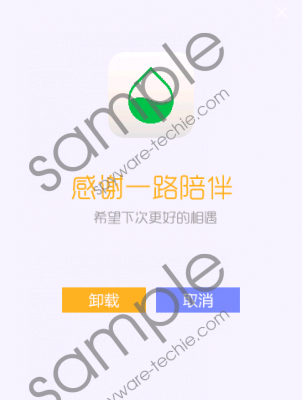 Flowsprit screenshot
Scroll down for full removal instructions
The Flowsprit program itself is supposedly there to monitor your download traffic. If you have a quota imposed by your Internet Service Provider, perhaps such a program could be quite useful. However, even if you think that the application might help you with something, you should not keep it because you did not install it. Whenever a program enters your computer behind your back, it always has a specific agenda, and it is very likely that you will not like it. So there is no need to go through it just because you think this program is not much of a big deal.
The problem is that Flowsprit could be easily used to communicate with FTP servers. We do know that it connects to install.yulezm.com and service.99ruyi.net domains. It is not clear what kind of data it transfers back and forth, but it is very likely that Flowsprit transfers personal information, too. For example, it could share your web browsing history, your download history, your system information, and so on. For the most part, such information could be used in online marketing schemes, but in some cases, it could be misused for malware distribution, too.
It is clear that removing Flowsprit from your computer is a must. Unfortunately, manual removal is quite complicated because this program has a lot of registry entries and files dropped across various directories. Of course, we will give you a list of all the registry keys and files you need to delete. However, if you do not feel confident about this, you can always invest in a security application that will do the job for you automatically. And it is not just a one-time act. By acquiring a computer security tool, you would protect your system from other threats in the future.
If you think you need more help with this, please leave us a comment. Just please remember that Flowsprit is just one of the many unwanted applications that might be running on your system. So when you delete them all, make sure you stay away from unfamiliar websites that could be associated with freeware distribution.
In fact, your web browsing habits are just as important in ensuring your system's safety as the security tool that you use. Do not open emails from unknown senders, and refrain from downloading apps from unfamiliar pages. Double-check everything, because before you know it, Flowsprit and other unwanted apps might find their way into your system again.
How to Delete Flowsprit
Press Win+R and the Run prompt will open.
Type regedit into the Open box. Click OK.
Delete these registry keys:
HKLM\SYSTEM\ControlSet001\services\flowhlp
HKLM\SYSTEM\ControlSet002\services\flowhlp
HKLM\SYSTEM\CurrentControlSet\services\flowhlp
HKLM\SYSTEM\CurrentControlSet\Enum\Root\LEGACY_FLOWHLP
HKLM\SYSTEM\ControlSet002\Enum\Root\LEGACY_FLOWHLP
HKLM\SYSTEM\ControlSet001\Enum\Root\LEGACY_FLOWHLP
HKLM\SOFTWARE\Wow6432Node\FlowBBase
HKLM\Software\FlowBBase
Close Registry Editor and Press Win+R.
Enter %WINDIR% into the Open box and click OK.
Navigate to system32\drivers and remove flowhlp.dat.
Go back to the %WinDir% directory and then open SysWOW64\drivers.
Remove the flowhlp.dat file from there and press Win+R again.
Type %AppData% into the Open box. Click OK.
Navigate to Microsoft\Windows\Templates.
Remove the QUaNDIvxbfdWF file and press Win+R.
Type %ProgramFiles(x86)% into the Open box and press OK.
Remove the FlowSprit folder and press Win+R again.
Type %ProgramFiles% and click OK.
Remove the FlowSprit file from the directory.
In non-techie terms:
Flowsprit is an extremely annoying and intrusive application that can collect information on your web traffic. This program was installed on your computer without your knowledge and permission. You have to remove Flowsprit from your computer immediately because the longer this application remains on-board, the more damage it might cause. Do not allow unreliable third parties to make use of this application. Protect your computer from harm by deleting all the potential threats right now.