Do you know what Flow is?
Flow is a browser extension that can be encountered by Google Chrome users only. It means that the application is not compatible with other browsers. According to its description, the extension enhances your search experience by displaying additional, relevant content among search results. Since the application is classified as a potentially unwanted program, it is possible that its extra content could be targeted advertisements. Some users hate seeing such content, and if you are one of them, you may want to think twice if you want this extension on your browser. If you no longer wish to keep it, you can erase Flow either manually or with a chosen antimalware tool. If you pick the first option, we can offer the removal guide placed below this article that shows how to delete the potentially unwanted program from Google Chrome.
Flow has an official website that is called mysearchflow.com. Also, at the moment of writing, the extension is available on the Chrome Web Store page. According to the mentioned platform's statistics, the application has over thirty thousand users. Also, it appears to have a few reviews. Some of them say that the application is excellent, while others give the application only one or two-star ratings. For instance, the user who gave the tool a one-star rating calls it "hateful." Besides the mentioned websites, the potentially unwanted program could also be spread through questionable file-sharing web pages, pop-ups, and ads. Therefore, if you do not want to come across such applications, we advise being attentive and careful on legit platforms and avoid untrustworthy file-sharing websites.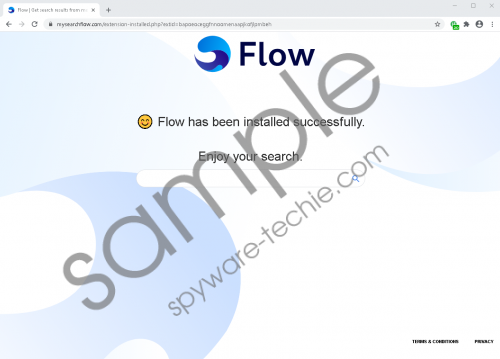 Flow screenshot
Scroll down for full removal instructions
What if you install Flow? The extension might start collecting information related to your browsing. According to the tool's Privacy Policy, the application may share collected data with third parties, for example, to provide personalized search results. As you see, the extension might inject your search results with additional content that, according to the application's description, could be sponsored. Meaning, the tool could inject your search results with third-party advertisements. Keep in mind that such ads could come from unknown sources and so might be unreliable. Therefore, users who are thinking about installing this application should decide if they want to risk seeing targeted ads from unknown sources. If you do not, you may want to look for a different tool for your browser. As for users who may have installed it, but now regret having done it, they could eliminate the potentially unwanted program.
Potentially unwanted programs like Flow usually can be removed in two ways. The first option is to go to your browser's extension menu, find the unwanted extension, and erase it. If you need instructions while completing this task, we can offer you our removal guide placed below this paragraph. The other way to delete Flow is to do a full system scan with a reputable antimalware tool. After the scan, you should see a list of identified items, including the potentially unwanted program. If you click the displayed deletion button, the unwanted extension should be erased along with other detections.
Erase Flow
Launch Google Chrome.
Press ALT+F.
Tap on More Tools and select Extensions.
Choose Flow.
Press Remove.
Click Remove again to finish.
In non-techie terms:
Flow got classified as a potentially unwanted program, which means that it could have undesirable functionality. The application's description says that it displays more search results, but since it is said that such results could be relevant and sponsored, it is possible that the additional search results could be targeted ads. Thus, users who do not like tailored advertisements might feel disappointed after installing this application. If you do not like how it works and do not want to keep it, you could delete it either manually or with a chosen antimalware tool. If you want to try to erase Flow manually, but do not know how, we advise following the removal guide we placed above this paragraph. If you prefer using security software while erasing the potentially unwanted program, we recommend employing a reputable antimalware tool. Should you need more help or have any questions about this extension, do not hesitate to leave us a comment at the end of this page.