Do you know what FloorPrice is?
The seemingly harmless browser extension FloorPrice turns out to be an advertisement-supported program which you need to remove from the operating system. In the eyes of our malware researchers, this add-on is not only useless but also potentially dangerous because it may connect your system to unfamiliar third-party servers. If you delete FloorPrice from the PC, this connection will be disabled and third-party ads will not be presented on the websites you browse. This is your goal because the presented offers could be both reliable and extremely misleading. Are you sure you can tell the difference between trustworthy and unreliable ads? Even experts in our internal lab think that this is a complicated task, and so the removal of the advert-supported program should be handled as soon as possible.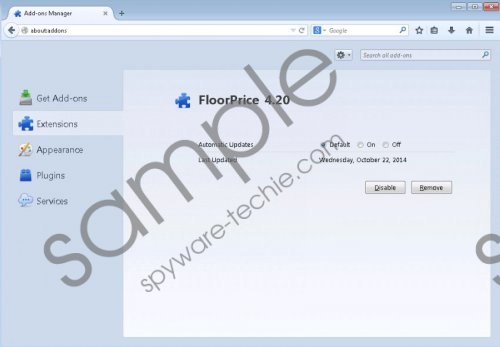 FloorPrice screenshot
Scroll down for full removal instructions
Many computer users may be surprised that FloorPrice removal is even up for discussion because this add-on could be installed onto the browsers in a secretive manner. Are you sure that FloorPrice is not active on your operating system as well? Check the extensions lists on your browsers and you will find out. Note that you may find Tinywallet, CouponAddon, KingCoupon, and a bunch other infections installed instead. These add-ons many seem harmless at first; however, you need to delete them as well. In fact, the mentioned adware programs are the clones of the devious FloorPrice, and they all have been created using the justplugit engine. Well, if you have no idea that any of these programs were active – how did they enter the PC? The answer is simple – software bundles. Adware developers often use third-party installers (e.g., InstallRex) to attach their own products to more alluring software without the notice of computer users. Due to this, you now may need to remove FloorPrice related computer infections as well.
Does the removal of adware intimidate you? It certainly should. As our researchers have discovered, if you do not delete FloorPrice carefully, certain leftovers may remain active, and this is not what you need. Due to this, we recommend that you choose the manual removal and start the process with the guides below, only if you are experienced and you know how to delete remaining components. On the other hand, adware does not stand a chance against automatic malware removal software which we recommend installing to remove FloorPrice from the system completely. Even if you succeed with manual FloorPrice removal, you must think about installing this software to delete infection which remain active or which may attack in the future.
Delete FloorPrice from the PC
Delete from Windows XP:
Click Start on the Taskbar and move to Control Panel.
Double-click Add or Remove Programs.
Remove the undesirable software.
Delete from Windows Vista/Windows 7:
Open the Start menu from the Taskbar and click Control Panel.
Click Uninstall a program and find FloorPrice.
Right-click the program and select Uninstall to remove it.
Delete from Windows 8:
Open the All apps tab (right-click on the Metro UI screen) and click it.
Select Control Panel and click Uninstall a program.
Right-click the app you have chosen to remove and Uninstall it.
In non-techie terms:
FloorPrice is an advertisement-supported program which computer users often install by accident. The application is set to promote the services of unfamiliar parties, which is why it is considered to be quite unpredictable. Needless to say, we recommend immediate FloorPrice removal, and automatic malware removal software is best for this task. Of course, you can try to employ the manual approach; however, the task may be complicated due to other potentially running threats which must be deleted as well.