Do you know what Flexible Family is?
If you would like to have useful family tips and practical advice, we do not recommend that you install Flexible Family at all. In fact, our researchers have categorized it as an adware program due to its functioning. We have found that this is a totally useless application that may well pose a threat to your virtual security. Having this adware on board can also indicate that several more infections are hiding on your system. The longer you postpone acting, the more chances these threats have to expose you to unsafe web content and cyber criminals. That is why we suggest that you remove Flexible Family and all other related and unrelated infections as well. There is no other way to make sure that your PC is safe for you to use. Please continue reading our article to learn more about this infection and how you can save your system from similar attacks.
This questionable software has an official website (flexiblefamily.com), where you can download its installer, FlexibleFamily_Setup.exe. However, according to our researchers, you need to be very careful with this site because it may host malicious content. Unfortunately, if you do not have security software installed, it is quite possible that you can download this installer without any issues. Why "unfortunately"? Because this installer contains a couple of unpleasant "surprises" in the form of malware infections. We have found different threats, including MyPcBackup, System Healer, and Yoursearching.com, in this installer, which means that you can easily infect your computer with potentially unwanted applications, browser hijackers, and ad-supported programs as well. These programs can present to you unsafe third-party content, such as advertisements and websites. This kind of exposure to criminals may end quite badly for you. However, this may not even be the only and most frequent distribution method.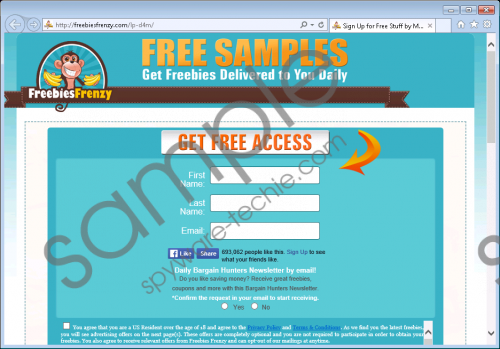 Flexible Family screenshot
Scroll down for full removal instructions
Our researchers have found that this adware can spread through unreliable pop-up advertisements. You should know that there are two possibilities for you to click on such a corrupt ad that may result in your downloading this application and possibly a bunch of more infections bundled together. First, it is possible that you land on a questionable freeware or torrent website when you are looking for free software to download. It is possible that such a website displays unsafe ads, either banner or pop-up, and you click on one. Second, if there is at least one adware application on your computer, it can also display such an advertisement while you are surfing the Internet. Yet another way we have noticed is that when your browsers are infiltrated by a browser hijacker, you may run a web search through an unreliable search engine that can expose you to corrupt search results. Clicking on an ad or a link on such a page may also be the cause of the presence of this annoying application. All in all, you need to be careful if you are infected with this adware because it will not be sufficient for you to delete Flexible Family alone. We suggest that you also scan your computer with a powerful malware scanner to detect all other potential threats as well.
There are more and more identical adware programs that hit the web. We have discovered that this application is practically a clone of LeadingVideos and a number of other ad-supported programs that function in exactly the same way. Their websites are also as good as identical and host potentially unreliable third-party ads as well. Although this software promises you family tips, let us tell you what really happens when you run this adware. First of all, this program launches Internet Explorer and opens different advertising pages, including redtag-specials.com/?agent_ID=201735&campaign_ID=6089. These pages may present you with unreliable content; therefore, engaging with them may be risky. Second, at the same time, this application also launches itself as a desktop window in which it loads bestfamilyadvice.com. This website seems to be an authentic page that is actually related to family and probably useful bits of advice as well. But, unfortunately, when viewed through this application, you cannot really do anything useful since this adware does not function as a browser. Therefore, we believe that this software is completely useless for you and we recommend that you use your browsers instead if you need family-related tips and advice. As for this adware, we suggest that you remove it right now.
In order to end your "suffering," we can offer you a very simple way; the cure for your problem. Luckily for you, this application has a working uninstaller that does not even leave leftovers on your system. Therefore, you only need to run this uninstaller via Control Panel and your headache will be gone without a trace. Well, a part of your headache indeed since you cannot forget about the rest of the infections. If you do not want to find and fight these one by one, we suggest that you use an automated method. We believe that the best way to keep your PC protected from the constant malware attacks is to install a trustworthy malware removal tool. It is important to know that you need to keep this tool updated for the best result.
Flexible Family Removal from Windows
Windows 8, Windows 8.1, and Windows 10
Press Win+X and enter open Programs and Features.
Click on the application and click Uninstall.
Windows Vista and Windows 7
Press Win+R and type in Control Panel. Click OK.
Open Uninstall a program.
Click on the application and click Uninstall.
Windows XP
Click the Start button and select Control Panel.
Access Add or Remove Programs.
Click on the application and click Remove.
In non-techie terms:
Flexible Family is a worthless desktop program that claims to provide great family tips; however, it will only introduce you to potentially harmful third-party web content and commercial advertisements. It is also quite likely that if you notice this software on your computer, there are other malware programs on board as well, including adware applications, browser hijacker, and also, potentially unwanted applications. This clearly shows that the presence of this adware represents multiple security risks. Therefore, we advise you to remove Flexible Family along with every other malware threats. If you prefer an automated solution, we suggest that you use a reliable malware remover.