Do you know what FiziPop is?
FiziPop is a potentially unwanted program (PUP) that works only on the Internet Explorer browser. The application is available on fizipop.com, which is its official website. Apparently, the site contains lots of various games that you can play online and free of charge. The problem is that if you want to play games from the premium section, you have to install this PUP. The program will show you advertisements, and if you click them, you will be redirected to third-party sites. Naturally, the PUP's creators should receive advertising revenue per click, and you might land on harmful web pages. The way we see it, there are tons of sites with free games where you do not have to install any suspicious software, so FiziPop is not worth to be kept on your system. If you think the same way, you can slide below the text and take a look at the removal instructions.
Our specialists say that the application could be downloaded from the official website, but it might come bundled with other software too. If you visited fizipop.com, you probably entered the premium section where you should have been suggested to download the PUP if you wish to play the selected games. In this case, you agreed yourself to install the application, but some users might have visited a doubtful file-sharing site and downloaded a bundled installer. Once the installer is launched, you should see a setup wizard that might suggest you to install more programs, such as FiziPop and others. Many users skip through the installation wizard's steps and fail to notice the bundled suggestions. If this situation seems familiar to you, then you might have downloaded the PUP just like that without even realizing it.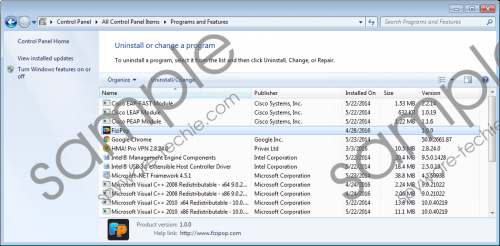 FiziPop screenshot
Scroll down for full removal instructions
The most problematic part of the PUP is that it displays third-party advertisements. The application's terms of use state that the ads "served by FiziPop will always show the FiziPop brand and are clickable." The part that worries security specialist is the clickable ads because it means they could redirect you to third-party websites. Visiting such sites could be harmful to your computer since you can never know which one of them might contain malware, but there are other risks too. For example, some third-party web pages could use cookies or other technologies to gather your private information, such as email address, telephone number, and so on. The main threat is that such information could be sold to other interested parties or used for malicious purposes, e.g. to scam you, extort money, etc. That is why the PUP's creators disclaim any liability in their Privacy Policy document with the following sentence: "we shall have no responsibility or liability for your visitation to, and the data collection and use practices of, these sites."
Those who wish to remove the application should know that it should be enough to uninstall it through Control Panel. The strange part is that the official FiziPop site gives instructions how to remove the program from the Google Chrome, Mozilla Firefox, and other browsers, but it does not include Internet Explorer. At the moment, the PUP works only on the Internet Explorer browser, and it should be enough to remove it via Control Panel, but just in case we are adding instructions for deletion of the PUP's extension from Internet Explorer. Therefore, scroll a little below this text and follow the removal guide to eliminate FiziPop. On the other hand, if you want to remove it with automatic options, we could suggest you download a legitimate antimalware tool of your choice.
Delete FiziPop via Control Panel
Windows 8 & Windows 10
Launch the RUN by (Win+R).
Type Control Panel and select OK.
Pick Uninstall a program.
Find the application and click Uninstall.
Windows Vista & Windows 7
Open the Start menu.
Select Control Panel.
Click on Uninstall a program.
Select FiziPop and press Uninstall.
Windows XP
Open Start and pick Control Panel.
Select Add or Remove Programs.
Find the application, mark it and select Uninstall.
Remove FiziPop from Internet Explorer
Open Internet Explorer.
Press ALT+X.
Click Manage add-ons and select Toolbars and extensions.
Locate the adware and select Disable on the bottom-left corner.
In non-techie terms:
The application itself is not that harmful as it cannot infect your computer or damage it in some way, but it provides unreliable third-party advertising. You could try to avoid the ads, but it seems easier to remove the PUP from your system. As we mentioned earlier, you can erase the program with the instructions given above, or you could install a security tool and leave this job to it. If you want to ask something else about the PUP, you can reach us via social media or leave a comment here.