Do you know what FixCleanRepair is?
FixCleanRepair is yet another computer optimizer/protector of arguable usefulness and reliability. So, you might want to remove it, because our researchers have classified it as a potentially unwanted program (PUP). Like many programs of its kind, FixCleanRepair offers seemingly useful features that you cannot use until you purchase a license key. It allows you to use a couple of its features, but most of them are locked. We are going to take a look at the things that the free version can do in order to get a glimpse of what this optimizer actually is. So if you have the free version and you are contemplating whether to purchase the full version, then we invite you to read this article.
This program is too good to be true, because it is not only an optimizer, but a anti-malware, anti-spyware, and anti-virus application with the addition of a disk defragmenter and a Windows registry cleaner rolled into one. The test of its malware, virus, and spyware detecting capabilities was unsuccessful, because the application has unable to update its databases citing bad Internet connection, which in reality was as good as it can be. Note that the security functions should work on the free or so called "slim version."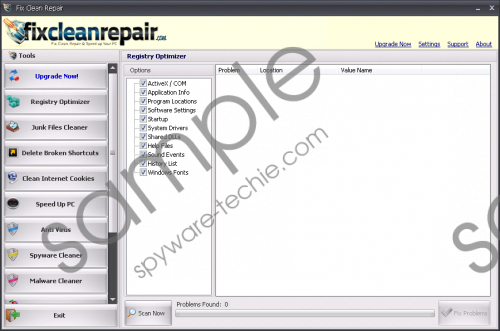 FixCleanRepair screenshot
Scroll down for full removal instructions
In general, the slim version does not allow using many functions, but let us take a look at what you can get from it for free. First, we will discuss the junk files cleaner. Obviously, this is a pretty good function. But if you perform the scan several times, you will notice that it will repeatedly display the same scan results that will reappear after you click "Clean" and click "Scan" again. The Slim version of FixCleanRepair includes a supposedly working disk defragmentation function, but it performs the scan way too fast and there are no additional options that all professional disk defragmenting programs have. The Uninstall manager does not actually remove an application. If you read carefully you will notice that it asks you "Are you sure you want to remove this program from the registry?" So it removes registry entries — not the application itself. So this function is misleading. And that is all that you get from the free version of FixCleanRepair.
There are no guaranties that the paid features will work as well. From what our researchers have gathered, FixCleanRepair is next to useless. It is hardly worth the $9.99 USD three month subscription fee. If you are determined to purchase an application, then make sure to get more information about it, as there are many applications that will disappoint you, because they do not work as advertised. FixCleanRepair is advertised on and can be downloaded from its main website at Fixcleanrepair.com. Its website features the usually overstated promotional slogans going so far as calling it revolutionary. The website also features customer testimonies that are likely made-up. The website provides no information about FixCleanRepair's developers, which is typical for a potentially unwanted application.
All in all, FixCleanRepair does not seem like a reliable application. It offers free functions of highly questionable reliability and there is no way of knowing it its functionality will improve if you purchase the full version. You researchers are convinced that FixCleanRepair is a potentially unwanted program, so if you want to remove it, then fell free to make use of our removal guide found below.
Uninstall FixCleanRepair from Windows
Windows 10
Right-click on the Start menu and select Programs and Features.
Find FixCleanRepair and right-click on it.
Click the Uninstall button.
Windows 8/8.1
Open the Charm bar located on the right side of the screen.
Click Settings and select Control Panel.
Open Uninstall a program.
Find FixCleanRepair.
Click the Uninstall button.
Windows Vista and Windows 7
Open the Start menu.
Open Control Panel and click Uninstall a Program.
Find the FixCleanRepair and right-click on it.
Uninstall the undesirable application.
Windows XP
Navigate the mouse to the lower left corner of the screen.
Open the Start menu and open Control Panel.
Click Add or Remove Programs.
Find FixCleanRepair and click Remove.
In non-techie terms:
FixCleanRepair is an alleged PC cleaner and optimizer, but our security analysts have deemed it as a potentially unwanted program, because the actual functionality of the "slim version" is questionable at the very least. Testing in our internal lab has shown that it is next to useless, so you might want to remove it entirely. This program is not malicious, but it is not worth the money asked for the full version.