Do you know what First Ransomware is?
Our researchers report that First Ransomware does not encrypt any data on the user's computer, although the cyber criminals who created this malicious application claim differently on the ransom note. The warning says the infection locks files with a secure cryptosystem and instructs users to pay a ransom of 1.5 BTC or approximately 1361 US dollars at the moment of writing. Clearly, since you do not need a decryption tool to unlock any data, there is no need worry about the payment. What's more, there are reasons to suspect First Ransomware could be only a test version, although we cannot tell if the cyber criminals have plans to upgrade it. If you want to find out more about this threat we encourage you to read the rest of the article. Also, we recommend deleting the malware immediately with the removal guide placed below or reputable antimalware software.
So far researchers still do not know how this particular threat might be distributed. However, based on our experience with other malicious applications alike, we could say the threat might be traveling with questionable attachments sent through Spam emails, malicious file-sharing web pages, and so on. Usually, such threats infect the system once user launches a suspicious file. Thus, to guard the computer against similar malware, you should be extra cautious while opening questionable web pages, setup files, or email attachments. Needless to say that identifying infected data can be difficult and in some situations, it is best to leave this task to legitimate antimalware software.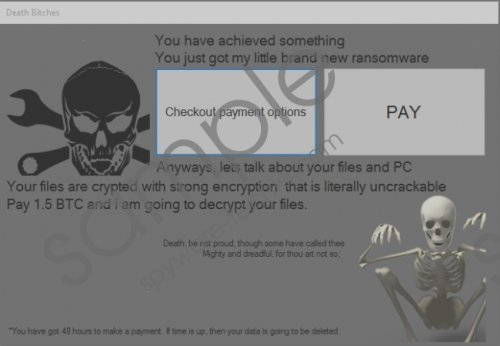 First Ransomware screenshot
Scroll down for full removal instructions
As soon as First Ransomware settles on the system, it should place its window on the screen. It warns the user that his files were locked with a "literally uncrackable" encryption algorithm and the only way to decrypt them is to pay a ransom of 1.5 BTC. The strange thing is there is no information how to transfer the asked sum. Right above the mentioned text, there is a button called "Checkout payment options." Since it does not seem to be working, we can only assume that by clicking it the user i is supposed to land on the cyber criminal's website where he would find further instructions. The button next to it is called "PAY," but it does not seem to be working either.
In other words, even if you wanted to pay more than one thousand dollars to some cyber criminals without information where the ransom should be transferred it is simply impossible. This is the main reason why our researchers think First Ransomware could be only a test version. After all, ransomware applications are created for only one reason, and that is money extortion from the victims who infect their computers. The next time you might be not so lucky as instead of a non-harmful test version, you could receive malware that may encrypt your personal data and make it unusable. Therefore, we advise you not only to back up your data but also secure the system.
To begin with, you should get rid of the malicious application. Eliminating First Ransomware should not be too difficult as it does not lock the screen or place lots of files on the computer. If you are up for the task, you can try to erase it manually with the help of our removal guide available below this text. On the other hand, we could suggest deletion with reputable antimalware software too. This option might be less complicated for inexperienced users. Also, it is recommended for those who want to secure the system and get a reliable tool that could protect the computer against various threats in the future.
Eliminate First Ransomware
Press Windows Key+R.
Use the Registry Editor to locate this particular directory: HKEY_CURRENT_USER\SOFTWARE\Microsoft\Windows\CurrentVersion\Run
Identify a suspicious value name; it might be titled as Microsoft Windows Search.
Right-click the value name related to the malware and press Delete.
Exit the Registry Editor.
Press Windows Key+E.
Go to the Desktop, Downloads, Temporary files, or other directories.
Find a randomly titled executable file you opened before the system got infected; it might be called firstransomware.exe.
Right-click the suspicious file and select Delete.
Exit the Explorer.
Empty your Recycle Bin.
In non-techie terms:
First Ransomware is most likely a test version as it does not lock or damage the data placed on the infected computer. It means you do not have to pay any attention to the cyber criminal's demands and instructions. If you do not want to see the malware's displayed ransom note, we would advise you to erase the malicious application at once. You can deal with it manually yourself by following the steps provided in the removal guide available above this text. The other option would be to download a reliable antimalware tool and use its scanning feature to locate the infection and erase its data automatically.