Do you know what First Color is?
First Color
is one more adware program crafted by the infamous SuperWeb LLC group. Lately, this notorious group has launched a number of adware programs; the list includes Banana Phone, Chart Choosing, Picexa, Sad Could and quite a few others. All of the mentioned applications including First Color should be removed without any hesitation if they are found active on your PC. Just like the majority of its counterparts First Color is advertised as a useful tool, which should improve your web browsing experience. Ironically, it will only do the opposite of it. As long as this intrusive adware program will be active on your PC you will constantly be disturbed every time you browse the web. Complete removal of First Color is the only way to regain the standard functionality of your web browser.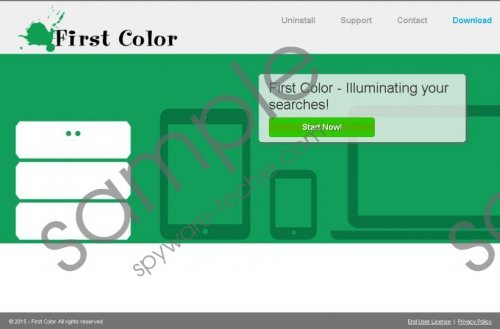 First Color screenshot
Scroll down for full removal instructions
Just like the majority of adware programs developed by SuperWeb LLC, First Color is mostly distributed via software bundles. Such bundles are usually hosted on various third-party download websites. We strongly advise you to avoid such websites as it will significantly reduce the risk of getting your PC infected with any Internet-based infection. In order to reduce the risk of getting your system infected to nearly zero percent, you must install a professional antimalware tool, which would provide overall system security at all times.
If, unfortunately, your PC is already infected with First Color, your browser will be filled with numerous third-party ads and annoying pop-ups. These ads and pop-ups might seem tempting as they could advertise goods for extremely low prices. Do not trust any ads provided by First Color as it has been noticed during the research that they could be implemented with various redirect links. By clicking on anything that this adware might provide you with you risk of getting your PC exposed to potentially malicious web content. In order to eliminate the risk of getting your PC infected with other Internet-based infections, you must remove First Color once and for all from your operating system.
Fortunately, the removal procedure of First Color is rather simple as you can delete it via Control Panel. Malware experts at Spyware-Techie.com have crafted a detailed removal guide, which is easy to use and should not cause any problems whatsoever. In order to make sure that First Color was removed completely, we strongly recommend you to check your system for any potential leftovers of this adware as just a few leftover files or registry entries could be the reason why First Color was able to restore itself silently.
How to remove First Color from your PC
How to remove First Color from Windows Vista and Windows 7
Click the Windows button and select Control Panel.
Click the Uninstall a program option.
Select First Color and click Uninstall.
How to remove First Color from Windows XP
Click Start.
Select Control Panel.
Click Add or Remove Programs.
Uninstall the unwanted application.
How to remove First Color from Windows 8
Move the mouse pointer to the lower-left corner of the screen.
Right-click and then select Control Panel.
Click Uninstall a program.
Select First Color and click Uninstall.
In non-techie terms:
Sometimes users might not be comfortable performing manual removal themselves as it could seem to be quite tricky. If you are one of those users, you should follow the instructions that we provide below, which will help you remove First Color in an automatic way.