Do you know what Fingerbedroom.xyz is?
Fingerbedroom.xyz is an adware server website, which is used as redirecting tool for other adware-related web pages. Because of its weird name, it is very unlikely that you have just stumbled upon it while browsing the Internet. More than likely, the presence of Fingerbedroom.xyz means that your computer is infected by adware. Take this as a call to action and remove any adware you can find.
You get to Fingerbedroom.xyz when you click a commercial advertisement while browsing the Internet. This page does not actually do anything worthwhile; it only redirects you to other advertising content. With this information, one might be interested in knowing how adware even functions. We are here to tell you that it mostly installs itself among your browser extensions -- with your permission -- and then starts collecting information about your browsing history and the things you look for on shopping websites and search engines. It uses this information to make its annoying pop-ups, banners, and other ads more attractive to you. If you are interested in a particular advertisement, you click it, getting redirected to a website like Fingerbedroom.xyz, which, in turn, sends you on your way to other adware web pages. With every click, the developers of that particular advertisement delivery tool get paid for increasing web traffic. This is not fair, because you're the one who does all the work without getting paid in return. Remove any adware from your system and you will never see Fingerbedroom.xyz again.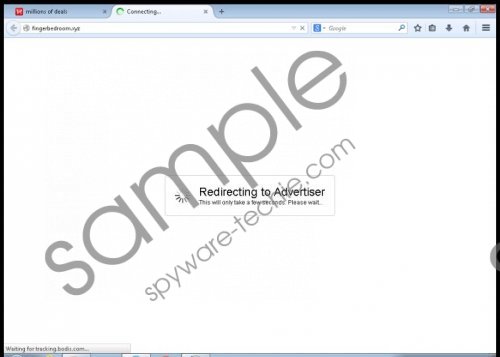 Fingerbedroom.xyz screenshot
Scroll down for full removal instructions
It is also useful to know that adware is distributed via freeware bundles. You should always take care when installing free programs, because inattention could cost you more than you bargained for when you get several undesirable programs on your system. All you have to do to get adware, browser hijackers, or other annoying programs on your system is to leave unchecked boxes offering to install additional software. You should remove these programs immediately, as they could present some threat to your system security.
Getting rid of Fingerbedroom.xyz is easy if you know what the adware that is linking you to this site is called. If you do not, however, it gets harder, because you have to find it first. With more than one or two adware applications, this could get quite complicated. To avoid this problem altogether, we recommend downloading a professional antispyware tool to scan your system and remove any threats. If you insist on doing it yourself, the instructions are provided below.
Fingerbedroom.xyz Removal
Windows XP
Click Start and go to Control Panel.
Click Add or Remove Programs, select the undesirable program, and click Remove.
Windows 8
Right-click the bottom-left corner of your screen and go to Control Panel.
Click Uninstall a program and find and select the undesirable program.
Click Uninstall.
Windows 7 and Windows Vista
Go to Start menu and click Control Panel.
Click Uninstall a program and select the program you wish to remove.
Click Uninstall.
In non-techie terms:
Fingerbedroom.xyz is an adware server that acts as a redirection hub from one advertisement to the next. Seeing this website typically means that your system is infected by adware. You should search for and remove any ad-supported software you find or get a professional spyware removal tool to do it for you.