Do you know what Find.mystart.space Redirect is?
If Find.mystart.space was set as your homepage or default search provider, you might be redirected to an unfamiliar search engine whenever you use this suspicious search tool. According to our research, this browser hijacker is directly linked to an extension called "MyStart Space." This extension is classified as a potentially unwanted program because although it is not incredibly dangerous, it does not exactly offer useful services. This extension is officially offered via http://mystart.space/ and the Chrome app store at http://chrome.google.com/webstore/detail/mystart-space/mlhhfidppjpaifjcnjpbmcjccfklbplf. At the time when this PUP was analyzed in our internal lab, it received its last update a year ago, and it had just over 100 users, which, of course, is a very small number. Of course, no matter how small a piece of software is, if it is potentially dangerous or unreliable, we need to talk about it. If you continue reading, you will learn if you should remove Find.mystart.space Redirect and MyStart Space.
The suspicious MyStart Space is meant to provide you with the "best homepage for Chrome," which indicates that it is only compatible with Google Chrome. Although the extension is introduced to you as some revolutionary tool, in reality, all it can do is help you customize a background image, and it can show you the current time, date, and weather information. Without a doubt, the most important feature of this hijacker is the search tool. Our research team has found that two different tools could be linked to the extension, including Find.mystart.space and Mystart.space/search. The first one does not seem to function, and the links that should represent legal information do not work either. The only thing we see is that the "Search" logo mimics the one of Google Search. The second search tool is much more intricate. For one, it works along with MyStart Space. Second, it can redirect search queries via infospace.com to showcase modified search results. That is very important because that is how the creator of the extension can display third-party links and, if you interact with them, earn money.
We have to assume that both Find.mystart.space and Mystart.space/search function in the same way, considering that they appear to be created by the same company to support the same extension. The Privacy Policy available at mystart.space/privacy-policy/ reveals that the search tool collects information that users share themselves. Of course, it could include personal information as well. This data can be used to introduce you to targeted advertisements, and it can be shared with – or sold to – undisclosed third parties, allegedly, for marketing purposes. Clearly, if Find.mystart.space redirects to a third-party search engine or shows third-party links, it is not serving you, but these third parties, and you need to think if that is something you want to deal with. After all, the search services provided by this redirector are not that great, and you can find much better and more reliable tools to help you browse the web.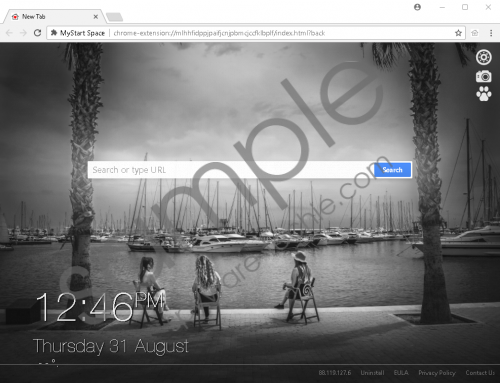 Find.mystart.space Redirect screenshot
Scroll down for full removal instructions
Even if you believe that you have downloaded Find.mystart.space on its own, it is smart to install a legitimate anti-malware tool to do a quick inspection. If other threats exist, you should not postpone their removal at all. Of course, you want to delete Find.mystart.space Redirector as well, and you should be able to do that by eliminating the MyStart Space extension. In case the redirector was installed on its own, separately from the add-on, you might have to change homepage and search provider settings separately, but that is unlikely to be the case. On the other hand, other infections are likely to exist, and we cannot guarantee that eliminating them manually will be easy. Remember that if you cannot erase malicious threats manually, a legitimate anti-malware tool can always help you out.
Remove Find.mystart.space
Launch Google Chrome.
Tap keys Alt+F simultaneously.
In the menu on the right select More tools.
Click Extensions and find MyStart Space.
Click the recycle bin on the right.
Select Remove and then restart Chrome.
In non-techie terms:
If you discover that you need to delete Find.mystart.space Redirector, the first thing you should do is scan your operating system (use a legitimate malware scanner for that) because it is possible that it came bundled with malware. If other threats do not exist, you are likely to at least find a PUP, MyStart Space. It is believed that the suspicious redirector should be automatically eliminated when this add-on is deleted. If that does not happen, changing Google Chrome search settings might be required. A legitimate anti-malware tool could be of use as well. Note that if you decide to follow the guide above, you must inspect your operating system using a legitimate malware scanner afterward.