Do you know what Find My Nascar Lineup is?
Find My Nascar Lineup might be suggested to users who are interested in sports. If you happen to come across it, you should know that this browser extension falls under the classification of potentially unwanted programs or PUPs in short. The add-on might alter a user's browser preferences, such as his homepage or new tab page. Also, it was discovered that the extension's search tool might be using a modified Yahoo search engine to gather search results. This is not our first encountered add-on that works this way as we have come across lots of them over the years, for example, My Flight Finder Tab, Travel Deals Center, EasyCouponsAccess, and so on. If you want to know more about this new PUP we recently researched, you should read our full report. For users who came here to find out how to erase Find My Nascar Lineup, we offer our removal guide available below. Also, like any other potentially unwanted program, it could be deleted with a reputable antimalware tool.
Firstly, it is essential to know that Find My Nascar Lineup could be spread not only through the Chrome Web Store page or its official site called findmynascarlineup.com, but also via pop-up ads. Of course, we cannot be one hundred percent sure, but since lots of similar PUPs are distributed this way, it seems possible. Our cybersecurity specialists say that advertisements spreading PUPs and tools alike may not necessarily be encountered while visiting unreliable websites.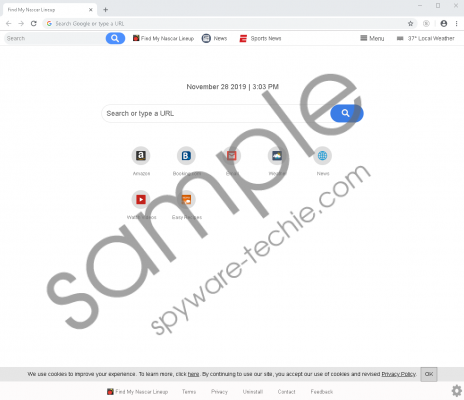 Find My Nascar Lineup screenshot
Scroll down for full removal instructions
Ads suggesting questionable tools could be displayed by adware programs, browser hijackers, or other PUPs that might be already installed on a computer. Thus, if you want to ensure that such software does not enter your device, you might want to clean your system as well as be more careful when installing new programs. Each tool should be thoughtfully researched and installed if you are entirely sure that it is not potentially dangerous or malicious. You could also employ a reputable antimalware tool that could help you identify possible threats.
Adding Find My Nascar Lineup might result in it changing your homepage and a new tab too if you are browsing with Google Chrome. Also, the application could place a toolbar that should appear below your browser's address bar. It might have links to websites providing various information. Plus, the toolbar ought to provide a search box. Our researchers say that if you search through this box or the add-on's search engine that your homepage or new tab page might be replaced with, you might be redirected to a modified Yahoo search engine.
The results displayed by the modified Yahoo search engine could be a bit different from the ones you would receive by searching directly through search.yahoo.com. The difference might be seen in advertisements as the PUP could place ads from its third-party partners. Keep in mind that they could come from unknown sources and so it might be best to be cautious if you see any questionable ads while searching with search.findmynascarlineuptab.com.
If you decide you do not like how Find My Nascar Lineup works, you could eliminate it. In case you want its provided links to other sites, you could bookmark them before you erase the PUP. To delete Find My Nascar Lineup, you could follow the removal guide placed below, or you could scan your computer with a reputable antimalware tool that could get rid of this PUP for you.
Eliminate Find My Nascar Lineup
Google Chrome
Open Google Chrome.
Paste this link: chrome://extensions into the browser's address bar.
Press Enter and search for the PUP.
Tap Remove and exit Extensions menu.
Restart your browser.
Mozilla Firefox
Open Mozilla Firefox.
Paste this link: about:addons into the browser's address bar.
Click Enter and go to Extensions.
Locate Find My Nascar Lineup and remove it.
Exit Extensions menu.
Restart your browser.
Remove Find My Nascar Lineup from Internet Explorer
Windows XP/Windows Vista/Windows 7
Navigate to the Start menu.
Access the Control Panel.
Pick either Uninstall a program or Add or Remove Programs.
Click the unwanted application and select Uninstall.
Windows 8/Windows 10
Tap Windows Key+R.
Insert Control Panel and press OK.
Choose Uninstall a program.
Select the PUP and press Uninstall.
In non-techie terms:
Find My Nascar Lineup is a PUP or a potentially unwanted program. Our computer security specialists say that it might be distributed via unreliable file-sharing websites or ads that could be displayed by other PUPs, adware, or browser hijackers. Thus, if you see a lot of ads or content promoting questionable applications/websites, we recommend checking your system to see if a recently downloaded program could be behind such advertising material. While the add-on is not considered to be dangerous, you should still be careful with it. On the other hand, if you do not want to take any chances and do not find the extension useful, you could eliminate it. Our researchers say it can be deleted manually or with an antimalware tool. If you prefer dealing with it on your own, you should have a look at the removal guide available a bit above. On the other hand, if you prefer deleting Find My Nascar Lineup with an antimalware tool, we advise installing a reputable tool and doing a full system scan with it.