Do you know what FilmsPro Search Extension is?
FilmsPro Search Extension is a Google Chrome browser extension that usually comes as an additional offer. Specifically speaking, users are offered to install it during the installation of Ezbrowsing Search and New Browse extensions. Some users skip installation steps so quickly that they do not even notice how they allow it to enter their computers, whereas others install it willingly expecting that it will act extremely beneficially. Of course, we are sure that there are people who voluntarily install this piece of software from the Chrome Web Store (https://chrome.google.com/webstore/detail/filmspro-search/jbmiemgamhbmihogdfcoegadlkkmmgpm). We cannot blame those users who install it on their computers themselves because FilmsPro Search Extension does look quite beneficial. It claims that users could "perform film web searches" easily and conveniently if they install it. Specifically speaking, it promises to make it possible to perform films-related searches by typing m and pressing TAB. We are sure you could perform similar web searches using an ordinary search tool, so we do not recommend installing FilmsPro Search Extension, especially when this browser extension is considered a potentially unwanted program by our experienced specialists. Have you already installed it on your computer? If the answer to this question is "yes," you should remove it today. You will undo the changes it has applied to your Google Chrome browser only by getting rid of it as well.
FilmsPro Search Extension is promoted as a beneficial piece of software, but, unfortunately, we have not found it very useful. Research has shown that it only changes default search tools on users' Google Chrome browsers after affecting them. Yes, you could perform searches by pressing m and TAB buttons on your keyboard, but it is not very likely that you will see any improved search results. It has been observed that all users' searches are redirected through http://search.iezbrowsing.com/search to https://www.gomovix.com/s, which suggests that search results returned to users might be modified. They might not differ much from ordinary search results, but it would be better not to click on any of them because they might open shady websites. To tell you the truth, it is not so easy to recognize these modified search results. As a consequence, it is almost impossible to avoid them. Of course, you will be sure that you cannot click on them if you do not use the search tool promoted by FilmsPro Search Extension. If you do not use it, there is no point in keeping this extension installed either.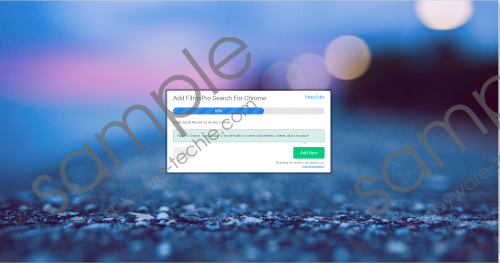 FilmsPro Search Extension screenshot
Scroll down for full removal instructions
Before we talk about the removal of FilmsPro Search Extension, we should first analyze how it is distributed. Specialists say that this potentially unwanted program might come from pop-ups. That is, users might install it after clicking on pop-up advertisements promoting it. They might be displayed to them after they visit certain websites. In addition, researchers say that it might be distributed as one of the components in software bundles. FilmsPro Search Extension is the same potentially unwanted application in all the cases, so you should remove it from your browser no matter how it has been installed on your system. There are many other similar potentially unwanted programs claiming to be beneficial applications, so always find out more about software you are about to install before actually installing it on your computer. Additionally, it would be smart to have a security tool enabled on the system 24/7.
FilmsPro Search Extension affects only Google Chrome browsers, so its removal will not take much time. What you need to do first if you have decided to get rid of it is to access the add-ons manager. Check instructions provided below this article to find out how to do that. Then, you will need to select the browser extension and click the recycle bin button. If you do not have time for this, remove the undesirable browser extension automatically from your system, i.e. perform a scan with a powerful automated scanner.
Remove FilmsPro Search Extension
Google Chrome
Open Google Chrome.
Press Alt+F.
Click More tools.
Click Extensions.
Select FilmsPro Search Extension.
Click the trash button.
In non-techie terms:
FilmsPro Search Extension is promoted as a beneficial piece of software that can improve the web searching experience. It does look beneficial at first glance, but it is not exactly what it seems to be. The thorough analysis has shown that this browser extension is a typical potentially unwanted program (PUP). It has turned out that it might present users with the modified search results that can redirect them to shady websites. On top of that, this piece of software might travel bundled together with other programs and thus enter computers unnoticed, which is definitely not a feature of a decent application.