Do you know what FilmsNet Start is?
FilmsNet Start might look like a genuinely useful extension for your Google Chrome browser, but our research team classifies it as yet another potentially unwanted program (PUP). It is officially promoted as a tool that allows you to "watch FREE movies," but that is not the case. The best it can do is present you with a list of authentic sources where you could watch movies for a certain fee. That is the main reason Chrome users choose to remove FilmsNet Start without further hesitation. Is that the only reason? Unfortunately, it is not, and if you continue reading this report, you will learn why this seemingly-harmless extension is something you need to get rid of immediately. If you do not think you need any more information, you can use the guide below to delete the add-on manually. If you need information, read the report before you move on to the elimination.
Officially, FilmsNet Start is introduced to users via medianetnow.com, which is a download website set up by MediaNetNow. The same website offers installers for other potentially unwanted programs, including moviesNet Search, musicNet Start, musicNet Search, and netGaming Search. Then there is the chrome.google.com/webstore/detail/filmsnet-start/iiigjoccgnjkohkbfglghdpnbehmlkfj installer at the Chrome webstore. According to the statistics offered via this source, the extension has over 77 thousand users, which is not a small number. The information on this page informs that the add-on can provide users with free access to movies, TV series, trailers, and information on actors and movie-related news. As we have determined already, that is not exactly the case, and that is why you might want to delete FilmsNet Start. When installing the add-on from this source, the user is informed that it can "Read and change all your data on the websites you visit," as well as "Replace the page you see when opening a new tab." If that does not sound good to you, do NOT install the extension.
Once installed, the suspicious FilmsNet Start represents itself using an interface of a search engine. In the middle of the page, you can find a search field, and using it is not recommended. If you do it, your search queries will be rerouted to Yahoo Search via movie.eanswers.com, and, unfortunately, this is how the results will be modified. The links injected into normal results could be harmless, but they could also be misleading or even malicious. That is the second reason our research team advises deleting the PUP. Besides the search tool, FilmsNet Start also offers easy access links to such popular sites as Instagram, Amazon, Facebook, YouTube, Yahoo, Twitter, Pinterest, LinkedIn, and eBay. It also adds a link to net.gomovix.com, which is the source that is meant to provide you with movie-related content.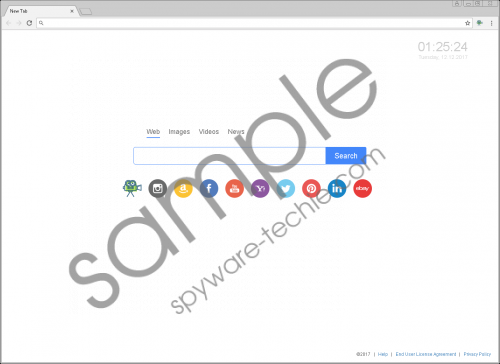 FilmsNet Start screenshot
Scroll down for full removal instructions
Although some users will download FilmsNet Start from an official source without other suspicious programs or extensions attached to it, others could acquire this strange PUP bundled with other threats that require removal. If this is the case, we strongly recommend scanning the system to assess the situation. Obviously, if multiple threats are active, we advise using an anti-malware tool to have all threats erased. If you only need to delete FilmsNet Start, you can do that successfully using the guide below. If you encounter any issues when it comes to the removal process, please do not hesitate to leave a comment below because we are here to help you.
Remove FilmsNet Start
Launch Google Chrome.
Tap keys Alt+F simultaneously to access the Chrome menu on the right.
Click More tools for more options and then select Extensions.
Click the recycle bin next to the unwanted extension and then select Remove.
In non-techie terms:
It is easy to confuse FilmsNet Start for a legitimate and trustworthy application because it does not look harmful and the service it promises is quite attractive. While this extension is not an infection, we classify it as a potentially unwanted program that requires removal for at least two reasons. First of all, this extension does not stream movies for free, which is the impression you get when looking at the official information. Second, this PUP offers an unreliable search tool that redirects to Yahoo Search and shows modified results without permission. If other threats exist, we suggest removing FilmsNet Start along with other unwanted pieces using an anti-malware tool, but you can also delete this add-on using the instructions above.