Do you know what Filmate-search.com is?
Users usually notice the suspicious search engine Filmate-search.com on their Google Chrome browsers after they install Filmate application which promises to enable you to access movie news, movie reviews, and search the web easily. Users living in the Mexico area usually end up with this program most frequently; however, it might appear on the systems of users living somewhere else too because the application is available at Chrome Store and is available for all the users. If you see the presence of Filmate-search.com every time you open your browser but wish to get rid of it and set another homepage, you can do this rather easily – you need to remove the Filmate extension from Google Chrome. If you have never tried doing that, let us help you with the removal of this search engine.
Filmate-search.com looks like a really useful search engine because there is a search box on its startup page which allows users to search for the information and there are several easy-access links placed on it. They will lead you to Gmail, Facebook, YouTube, Drop box, Twitter, and Instagram. If you enter something into the search box, you will notice immediately that you are presented with mqr.boxo-search.com. It is not the most reputable search engine. Therefore, we think that it might show sponsored results, i.e. they might be filled with advertisements. In addition, there is also a slight possibility that this search engine will collect your search queries and other information about your activities. This is another reason why you should get rid of Filmate-search.com fully. As you have probably understood, not all the search engines that look useful are really trustworthy, so you should be careful in the future. Further in this article we will tell you how you can protect your system in the future.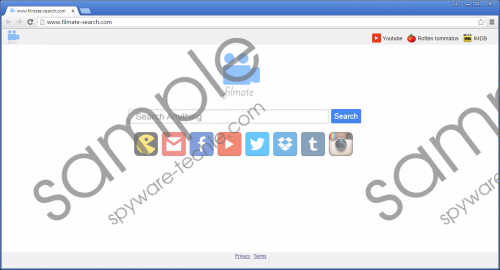 Filmate-search.com screenshot
Scroll down for full removal instructions
Even though the application that distributes Filmate-search.com is available at Chrome Store, it is not very likely that you have detected it and decided to install it yourself. Research carried out by our specialists has shown that Filmate-search.com has probably been set as your homepage because you have clicked on a pop-up offering to download a useful application. Of course, this might have happened accidentally too. Such pop-ups usually appear on unreliable third-party web pages; however, you might see them because some kind of other undesirable program is installed on your system. If you want to find out whether it is true, scan your system with an automatic scanner.
You will be able to remove Filmate-search.com from your Google Chrome browser really easily – it will disappear after you delete its extension. Please find below the instructions that will help you to get rid of it. Have you noticed that Filmate-search.com is still present after the manual removal? If so, scan your system with an automatic malware remover, such as SpyHunter. It will erase all kinds of infections for you. In addition, there is no doubt that it will protect your PC from other threats and unauthorized changes in the future.
Delete Filmate-search.com
Google Chrome
Open your browser and tap Alt+F.
Select More Tools and open Extensions.
Locate the extension on the menu and right-click on it.
Click the trash button next to it.
Click Remove.
In non-techie terms:
If you do not want to allow undesirable software to enter your system in the future, you have to install a security tool and keep it always enabled. Another thing that you have to do is to stop downloading programs from third-party web pages. Finally, we suggest installing new programs very attentively.