Do you know what FileShareFanatic Toolbar is?
FileShareFanatic Toolbar is not a program we recommend installing onto your PC. This toolbar was created by Mindspark Interactive Network Inc., and we have analyzed at least a hundred of different products by it. According to our information, this unreliable program is unlikely to be installed without your permission; however, there is a chance that you will install it by accident. Ask.com search tools might be installed by accident as well. In fact, because of this search provider, many users rush to remove FileShareFanatic Toolbar thinking that it is a browser hijacker. Although we do not identify Ask.com or the toolbar itself as hijackers, we do recommend removing them. There is no denying that there are plenty of far more malicious programs out there, but this toolbar – as well the search provider that follows it – is quite questionable, and deleting it might be best.
Filesharefanatic.com is the official download page of FileShareFanatic Toolbar. We have found that this program can also be spread by third-party installers. Just like AnimeUnzipped Toolbar, GetFormsOnline Toolbar, and other programs created by Mindspark, this toolbar can be downloaded along with programs that deserve immediate removal. Which programs come packaged with this toolbar depends on the installers responsible for the distribution, and you might encounter all kinds of threats starting with adware and ending with silent Trojans. Obviously, we suggest deleting FileShareFanatic Toolbar-related malware. We also suggest deleting Ask.com search tools that are offered when downloading this toolbar. Note that you can reject these tools, and you are not forced into installing them. The problem is that these search tools are supposedly powered by Ask.com, and most users think that they can be trusted. In reality, home.tb.ask.com and search.tb.ask.com are controlled by Mindspark to show off affiliate links for which a commission might be received.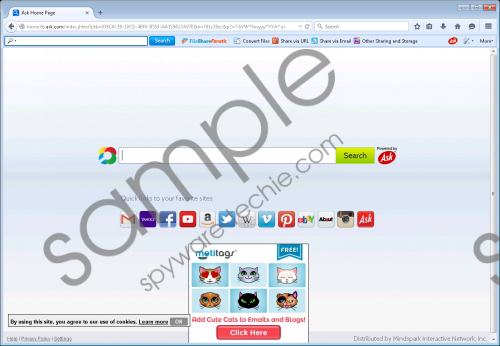 FileShareFanatic Toolbar screenshot
Scroll down for full removal instructions
Although FileShareFanatic Toolbar promises to help you convert files and share them via URL or Email, this toolbar is way too suspicious to keep around. The legal information regarding this toolbar indicates that "certain information" can be collected and disclosed to third parties. We do not know what kind of information can be collected, and which parties might be involved. These are the questions you need to have definite answers in order to know whether or not you can trust software. Due to the unknown we believe it is best to delete FileShareFanatic Toolbar from your operating system. You will have to uninstall this program in order to delete it from Internet Explorer. However, if you have installed this program on Chrome and Firefox browsers, you will have to remove appropriate extensions. Fortunately, this is not something that you should have a lot of problems with. The removal of third party malware, on the other hand, might pose issues, and you can install antimalware software to solve them.
Remove FileShareFanatic Toolbar
Remove from Windows XP
Move to the left of the Taskbar and click the Start icon.
Open the Control Panel menu and double-click Add or Remove Programs.
Move to the Change or Remove Programs and Remove the undesirable application.
Remove from Windows Vista/Windows 7/Windows 8/Windows 10
Tap Win+R on your keyboard to launch RUN.
Enter Control Panel and click OK to launch the menu.
Navigate to Programs/Programs and Features and click Uninstall a program.
Right-click the program you want to delete and select Uninstall.
Remove from Mozilla Firefox
Simultaneously tap Alt+T.
Select Options and move to the General menu.
Overwrite/delete the Home Page URL.
In the Search list Remove the unwanted provider.
Tap Alt+T again and select Add-ons.
In the Extensions menu Remove all unwanted add-ons.
Remove from Internet Explorer
Simultaneously tap Alt+T.
Select Manage Add-ons and go to Search Providers.
Remove the undesirable provider and click Close.
Tap Alt+T again and choose Internet options.
Click the General tab and move to the Home Page.
Overwrite/delete the Home Page URL and click OK.
Remove from Google Chrome
Simultaneously tap Alt+F.
Select More tools and click Extensions.
Click the recycle bin button and select Remove.
Tap Alt+T again and choose Settings.
Under On Startup and mark Open a specific page or set of pages.
Click Set pages and overwrite/delete the undesirable option. Click OK.
Scroll down to Appearance, mark Show Home button, and click Change.
Overwrite/remove the undesirable search tool and click OK.
Move to Search and click the Manage search engines button.
Remove the undesirable search provider and click Done.
In non-techie terms:
Have you analyzed the privacy policies and the terms of use associated with FileShareFanatic Toolbar? Do you not care that information about you can be shared with unknown parties? If you see no harm, you are likely to keep using this toolbar; however, we advise removing it from your operating system. The manual removal shows how to delete FileShareFanatic Toolbar from your operating system and browsers, but you should also think about installing automated malware removal software to make sure that malicious programs cannot enter in the future.