Do you know what FileSendSuite Toolbar is?
If you have noticed a dubious toolbar within your browser, it is a primary indication that the FileSendSuite Toolbar is active on your operating system. Our research team has dubbed it as a bad toolbar that should be removed once it has been discovered running on your PC. While this toolbar might seem quite useful at first since it is advertised as a great tool that helps you upload and download various files straight from your browser, you must know that all these statements are misleading to say the least. In fact, this devious way of advertising is used to lure naïve Internet users into downloading and installing an utterly worthless piece of software. Do not hesitate and use the removal guide that we provide below in order to delete FileSendSuite Toolbar in a quick and easy way.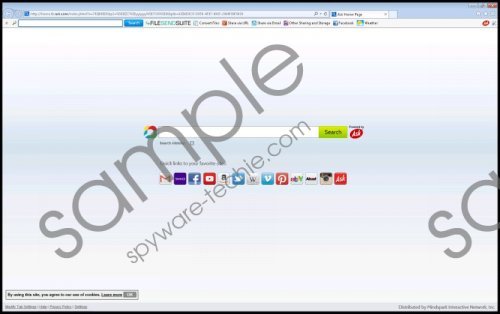 FileSendSuite Toolbar screenshot
Scroll down for full removal instructions
FileSendSuite Toolbar makes changes to your default settings as soon as it enters your operating system. You will not be notified about any of these changes; your default homepage and search engine will be the main changes that you will experience. Along with these changes, this malicious application will install a suspicious toolbar that allegedly should help you download or upload files within your browser. While it sounds like a great tool to have, in reality this invasive toolbar will not do anything like that. The fact is that FileSendSuite Toolbar will only cause endless annoyance and frustration as long as it is active on your PC. The annoyance will most be caused due to the fact that you will not be able to start your browsing session on your desired home page as well as you will be forced to use a suspicious third-party search engine for all of your Internet searches. It is more that obvious that this intrusive toolbar serves no beneficial features, and that is the main reason it should be removed from your PC without any hesitation.
Since it has been found out that FileSendSuite Toolbar is closely related to other malicious toolbars such as InternetSpeedUtility Toolbar, ProductivityBoss Toolbar, LotteryStream Toolbar, and quite a few others it is not surprising that it is distributed in virtually the same way as its counterparts. The most prominent way that this toolbar and is spread is via software bundles. If you want to reduce the risk of getting your PC in this way make sure to practice safe browsing habits. One of the most important things that you should do is to stay away from various third-party download websites as they are known to be the primary sources of bundled installers. Also, make sure to learn about the application that you wish to install as much as possible before downloading it because other infectious programs use devious marketing strategies. Most importantly you should know that the only sure way to keep your PC clean and secure at all times is to have an active antimalware tool on your computer at all times.
The removal of FileSendSuite Toolbar is paramount since in some cases it could be used as a security breach by other adware programs to gain access to your PC. This is an extremely dangerous instance as your system could Ned up running numerous suspicious or even potentially malicious applications. If you wish to avoid such cases, make sure to remove this invasive toolbar thoroughly. Check your PC for potential leftovers associated with FileSendSuite Toolbar to be sure.
How to remove FileSendSuite Toolbar from your PC
Removal guide for Windows Vista and Windows 7 users
Tap the Windows button and select Control Panel.
Click the Uninstall a program option.
Right-click the unwanted program.
Select Uninstall.
Removal guide for Windows XP users
Click Start and select Control Panel.
Click Add or Remove Programs.
Uninstall the unwanted application.
Removal guide for Windows 8 users
Move the mouse pointer to the lower-left corner of the screen.
Right-click and then select Control Panel.
Click Uninstall a program.
Double-click the unwanted application.
Confirm that you want to remove it.
In non-techie terms:
We provide an alternative removal guide below for all the user that find manual removal and analysis of their PC too complicated. This alternative removal method will help you delete the malicious toolbar in an automatic way; thus making sure that everything associated with it was removed.