Do you know what FileHunter is?
If you have FileHunter installed on your computer, then you have probably noticed that it does not actually download any torrent files. That is because this program does not work, and, therefore, we advocate for its removal. Not only that, but this program may also display commercial advertisements that may be unreliable, as they come from unknown sources. This program is not considered malicious, thus it falls into the category of potentially unwanted programs. In this article we will provide a short description of FileHunter and a removal guide that will help you get rid of it.
This program was developed by a software developer called Corsair Logic. However, this company no longer exists. FileHunter was released in 2011, so it is quite old. It seems that it was abandoned by its developers. It does not have a dedicated download website. Nevertheless, it can still be found bundled with various free programs and put up for download on shareware websites. Our researchers have found that FileHunter is still featured as a standalone program on Download.cnet.com, however the download does not work. So if you have this program, then you could only have gotten it via a software bundle.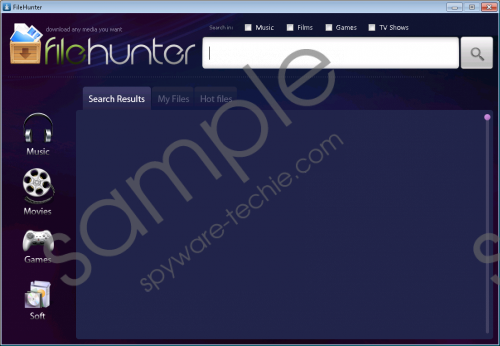 FileHunter screenshot
Scroll down for full removal instructions
FileHunter is a very simplistic barebones program. It is obvious that not much work was put into this program, but it was made to look appealing nonetheless. However, unlike real torrent clients, this program worked with only one torrent server, Torrentz.eu. It is easy to see that FileHunter was developed for the purpose of attracting new users. However, this is no longer the case, because if you try searching for something via this program it will only show you an error message. The error is an indication that this program cannot connect to the Torrentz.eu server. Therefore, this program is absolutely useless.
Furthermore, our researchers found that FileHunter may inject commercial advertisements into your browser. First of all, its ads are undesirable and may be very annoying. However, the real problem lies in the fact that they come from unreliable sources. We think that at least some of its ads may promote unreliable software, such as bad toolbars, bad adware, and bad browser hijackers. Such programs can compromise your computer's security. Therefore, it is recommended that you delete FileHunter from your computer as soon as possible.
Now you know everything there is to know about FileHunter. It is a potentially unwanted program that is advertised as a torrent client, but does not actually download any torrents. At present all it can do is display advertisements of questionable reliability. We think that it will not be long before this program disappears entirely, but as long as there are software bundles that feature it, users will continue to get it. So we recommend that you remove FileHunter if you somehow got it on your computer. It does not pose an immediate threat to your computer's security, but it is definitely unreliable.
Remove FileHunter from your computer
Windows XP
Press the Windows Key on your keyboard.
Click Control Panel and go to Add or Remove Programs.
Find FileHunter among other programs and click Remove.
Windows Vista/7
Press the Windows Key on your keyboard.
Click Control Panel and go to Uninstall a program.
Find FileHunter among other programs and click Uninstall.
Windows 8/8.1/10
Right-click on the Windows Start menu/screen.
Click Programs and Features.
Find FileHunter among other programs and click Uninstall.
In non-techie terms:
FileHunter is a non-functioning torrent client that our researchers have classified as a potentially unwanted program. This program no longer works and is effectively useless. However, it may still show commercial advertisements that may be unreliable. Indeed, FileHunter may be still used to promote malicious software, so you should remove it using our removal guide located above.