Do you know what a FileFuck Trojan is?
FileFuck Trojan is a sorry excuse for a malware infection. It takes the worst features of a ransomware infection, and terrorizes innocent computer users just for the sake of it. The existence of such infections only emphasizes the importance of backing up your files.
If you get infected by his Trojan, you have to consider the possibility that you may not be able to recover the corrupted files, and you may have to start anew. On the other hand, this should not discourage you from removing FileFuck Trojan from your system as soon as possible.
It is hard to say how this infection spreads around because it keeps a rather low profile. Our research team suggests that FileFuck Trojan might be spreading through spam emails. This would not be surprising because ransomware programs (which are very similar to this Trojan as a whole) mainly use spam to spread around. It also means that users are the ones who virtually infect their computers with these infections because they are not careful about the emails they open.
If you receive an urgent message from an unknown sender, you should think twice before interacting with it. Sometimes the message may seem like a legitimate notification from a reliable organization, but if you had not been looking forward to such an email, there is no need to open it.
In fact, opening such emails does not automatically entail that you'd get infected with FileFuck Trojan. These spam emails usually come with attachments or outgoing links that users are urged to download or open. Now, the moment you open the downloaded attachment, this is when FileFuck Trojan slithers into your system. In other words, it is possible to avoid getting infected with these dangerous programs if you are attentive enough.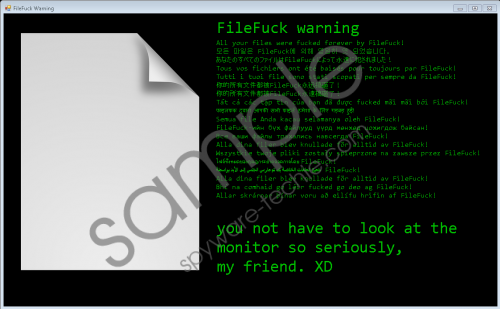 FileFuck Trojan screenshot
Scroll down for full removal instructions
FileFuck Trojan itself is based on the Hidden Tear ransomware code, and that is why we can say that it shares certain similarities with ransomware infections. However, note how there's no "ransom" in the name. That is because FileFuck Trojan does not ask for one. While ransomware programs (technically) expect you to pay a ransom fee in exchange for your files, the Trojan is simply there to mess up your data and laugh at you. Check out the message it displays once it has corrupted your files:
All your files were fucked forever by FileFuck!
You can not recover the files. Forever!
I do not know if you've backed up your files, I'm sorry if you have not backed up.
Be sure to backup in the future!

FileFuck – Your system is no longer secure.
So, as you can see, FileFuck Trojan does not want anything from you. It just enters the target system, corrupts most of the personal files, and then laughs at you. Judging from what we have found during our research, this Trojan can corrupt the following file types: TXT, DOC, DOCX, XLS, XLSX, PPT, PPTX, ODT, JPG, PNG, CSV, SQL, MDB, SLN, PHP, ASP, ASPX, PSD, ZIP, 7Z, EGG, and many others. To put it simply, if you do not have copies of your files saved someplace else, this Trojan can successfully destroy most of your personal data.
There is no decryption code that would help you restore your files, so you need to look for other ways. If you regularly back up your data on an external hard drive or on a cloud drive, there should be no problem. You just need to remove FileFuck Trojan from your system, delete the corrupted files, and then transfer the healthy copies back into your computer.
On the other hand, if you do not have one exact place where you backup your data, you might want to check your mobile device and your outbox, because you might as well have most of your recent files saved over there. As for FileFuck Trojan, it is not complicated to remove it manually, but if you do not want to do it on your own, you can invest in a legitimate antispyware tool that would do everything for you automatically. In fact, automatic malware removal is the fastest and the most efficient way to deal with dangerous intruders. Not to mention that it will also safeguard your system from similar infections in the future.
How to Remove FileFuck Trojan
Go to the Downloads folder.
Remove the most recently downloaded files.
Go to your Desktop.
Delete the @READ_IT@.txt file.
Scan your PC with SpyHunter.
In non-techie terms:
FileFuck Trojan doesn't look like much, but it is an annoying infection that can severely cripple your computer. This program can destroy your files without the option to get them back. You need to remove FileFuck Trojan from your system immediately, and then look for ways to restore your files. To avoid similar infections, please be careful each time you interact with email messages from unfamiliar senders. You should also consider getting yourself a powerful antispyware tool.