Do you know what FileFinder is?
Our security experts have tested FileFinder and came to the conclusion that it is a useless, shady program and that it ought to be removed. Now, it is not malicious per se, so they have classified it as a potentially unwanted program (PUP.) Its users report that it secretly installs malware and can even show advertisements. Furthermore, it is said that it is distributed in a dishonest manner as shady bundled software installers are set to install it on your PC without your knowledge. To find out more about this shady program, please read this whole article.
Let us begin our analysis with this program's origins as they help establish this program's credibility or rather the lack thereof. Our researchers have determined that this application was created by a company called Webitar Production Inc. It appears that this company's only release is FileFinder and you might also be interested to know that this company is in the online advertising business. Indeed, according to its website at Webitar.biz, "Webitar Production Inc. is dedicated to providing creative web design and online advertising solutions with straight focus on client." While FileFinder did not display advertisements in its interface or on the desktop when we tested it, we cannot rule out the possibility of it doing this in the future. This company is based in Mahe, an island of Seychelles in the Indian Ocean. You can contact the developers via the messaging platform featured on Webitar.biz, but there is no guarantee that someone will get back to you.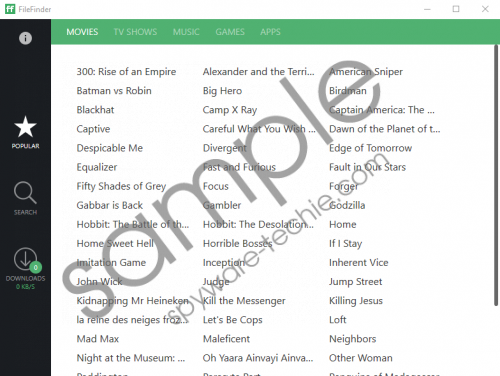 FileFinder screenshot
Scroll down for full removal instructions
As far as FileFinder's distribution methods are concerned, we want to point out that it might come bundled with shady software installers that are set to hide the presence of this application and install it secretly without your knowledge. However, you should be able to deselect its installation by opting for advanced installation settings and unchecking its appropriate checkbox. Moreover, our researchers have received information that this application is promoted in the search results of a browser hijacker called Tech-connect.biz. Therefore, it is possible that this program has a dedicated download website, but its official website at Find-files.org currently does not work. Hence, there should be another website that disseminates it.
There is not much to say about its functionality, however. Officially FileFinder is a torrent client that distributes TV shows, movies, music, games, and software. The content featured on this program is most likely pirated, so we do not recommend using this program because of that. Nevertheless, the real issue we are mostly concerned with is that this application might get malicious software on your computer. While it did not infect the test computer with malware, we do not rule out the possibility of it showing it altogether. As far as the information claiming that it shows ads is concerned, it did not show ads while testing it, but given that it was created by an online advertising company and the fact that many anti-malware applications detect it as adware, we deem it as untrustworthy and suggest uninstalling it.
We hope that you found this article informative. As you can see, this application is not exactly malicious and most of that is said about it is not confirmed as fact. However, if this program as legitimate, then so many anti-malware applications would not delete it. Clearly, there is something wrong with it, so we suggest being on the safe side of things and remove it using our instructions or get an antimalware tool to do it for you.
Uninstall FileFinder via Control Panel
Windows 10
Right-click the Start menu.
Click Control Panel and go to Uninstall a program.
Find the program and highlight it.
Click Uninstall.
Windows 8/8.1
Open the Charm bar.
Click Settings and select Control Panel.
Open Uninstall a program.
Find the program and highlight it.
Click Uninstall.
Windows Vista/7
Click the Start menu button and select Control Panel.
Click Uninstall a Program.
Find the application and highlight it.
Click Uninstall.
Windows XP
Open the Start menu and click Control Panel.
Open Add or Remove Programs.
Find the application and highlight it.
Click Remove.
In non-techie terms:
FileFinder falls into the category of potentially unwanted programs because we have received reports that it can secretly download malicious software and show commercial advertisements. Some anti-malware applications detect it as adware and remove it. So we recommend that you do not take any chances and uninstall it using our guide found above.