Do you know what File Conversion Now is?
File Conversion Now might sound like a useful application if you are looking for an extension that would provide links to websites with file conversion tools. However, researchers report that this plugin was classified as a potentially unwanted program. It may have some undesirable functionality that we discuss further in this report. Thus, if you want to know what unwanted qualities this extension might have and how it works or how it could be spread, we invite you to read the rest of this article. We recommend checking our removal guide available at the end of this text if you are interested in the potentially unwanted program's deletion. If you do not wish to erase File Conversion Now manually, we advise getting a reliable antimalware tool.
Currently, File Conversion Now can be downloaded from the Chrome Web Store page. As you see, the application is compatible only with Google Chrome. However, we do not think that users who find the extension on the mentioned platform would wish to download it as it has a low rating and quite a few negative reviews. Most of the users who wrote negative reviews said they hated how the plugin changed their browsing preferences. A user also mentioned that the application randomly opens new tabs. Of course, it is likely that the application might be spread through other places like its official website, various file-sharing pages, and pop-ups or ads. Thus, we advise being cautious while searching for new software on the Internet. Always make sure that you research your chosen application carefully before installing it. Reading expert and user comments like in this case could be a huge help.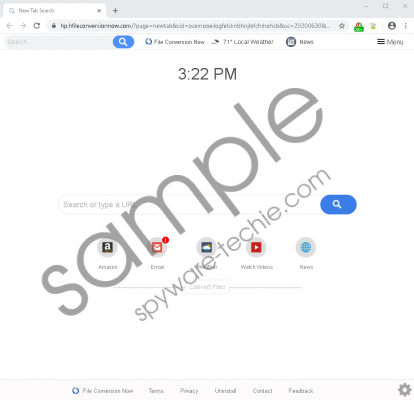 File Conversion Now screenshot
Scroll down for full removal instructions
Like the earlier mentioned comments said, File Conversion Now might change various browser preferences. For example, the extension could change your homepage, new tab page, or default search engine with its website that is called hp.hfileconversionnow.com. This site may contain various links to popular social media or shopping platforms, sites that provide file conversion tools, and so on. Also, the potentially unwanted program's site could provide a search box. Researchers say that after entering a keyword, a user may get redirected to a modified Yahoo search engine, which means the results that it displays could be injected with ads from the plugin's third-party partners. Ads from unknown sources can be unreliable, which is why we advise being cautious if you see any questionable ads while surfing the Internet via hp.hfileconversionnow.com. We should also mention that the potentially unwanted program might request permission to read your browsing history. This could allow it to gather data about your interests, which might be used for creating targeted ads.
All in all, the extension may provide useful links, but you can bookmark them yourself and enter the needed sites just the same. Thus, if you like the links but do not like how the plugin works, we advise bookmarking them and erasing File Conversion Now. To delete it manually, you could use the removal guide available below. If the process seems too complicated, we recommend getting a reliable antimalware tool that would remove File Conversion Now for you.
Erase File Conversion Now
Open Google Chrome.
Insert chrome://extensions into the Google Chrome's address bar and press Enter.
Find the unwanted extension in the add-ons list.
Click the Remove button next to File Conversion Now.
Close the tab with the Extensions menu.
Restart the browser.
In non-techie terms:
File Conversion Now is a potentially unwanted program that may change your browser preferences as well as ask for permission to read your browsing history. Such functionality might be unwanted as many users do not like it when their browsing preferences are being changed or when they have to share their browsing history since it could reveal data that users consider private. If you do not like the mentioned functionality, likely, this extension is not for you. In which case, we recommend bookmarking links to websites that provide file conversion tools so you would not need an extension to provide them. If you decide to delete File Conversion Now, you can do so manually by following the removal guide available below. Also, you can erase it with a chosen antimalware tool. Just make sure that it is reputable if you do not want to end up with another potentially unwanted program.