Do you know what FastAgain PC Booster is?
FastAgain PC Booster is a registry defragmenter or a system optimizer which is meant to enhance the running of your Windows system. The application promises you that it will prevent system crashes, fix computer freezing, remove the appearing error messages and increase the operation speeds. Even though the program may seem beneficial, security experts treat it as a potentially undesirable program (PUP) because after attracting computer users with a free scanner it then pushes them to pay for the full feature tool. If you wish to delete FastAgain PC Booster from your personal computer, this is the article for you. Continue reading and you will find out how to remove the undesirable application in no time.
The suspicious FastAgain PC Booster is promoted at fastagain.activeris.com, and if you are careful enough, you should notice that the program is offered for $29.97. Overall, we do not recommend installing this program onto your personal computer because there are more beneficial system optimizers. What is more, this particular tool is presented with various different price tags, which signals that it is not as reliable as it may seem at first. If you install the application without realizing that you will need to pay money in order to activate its services, it is most likely that you will want to remove FastAgain PC Booster right away. You should delete the program without any hesitations and without paying any attention to the additional offers. For example, you may be offered a free trial version of the suspicious optimizer; however, this is just a trick to retrieve your full name and email address, and to push you into spending money on the services of the affiliated third parties (e.g., australianjade.com).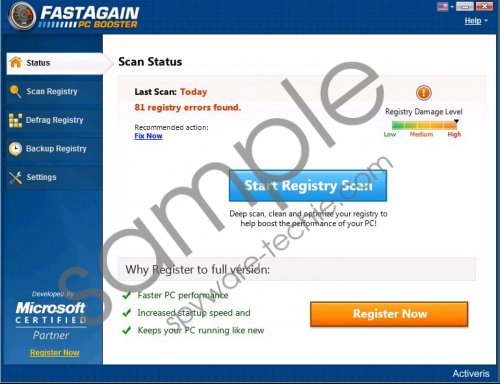 FastAgain PC Booster screenshot
Scroll down for full removal instructions
You can remove FastAgain PC Booster from your personal computer using the manual removal guides below. Once you are done with the undesirable application, you should completely ignore the message displayed on a newly opened browser window. This is the last chance for the developer of the suspicious application to convince you to purchase the full feature version of the FastAgain PC Booster. This time you will be asked to pay only $14.97. Needless to say, it is not a good idea to waste your money on the program. Please see an excerpt from the suspicious notification below.
Wait! You Still Have Registry Errors!
Dear FastAgain User,
We noticed you made the decision to uninstall FastAgain PC Booster, but we want to make sure you're making an informed decision.
We have one last unbelievable Special Offer to help change your mind…
Remove FastAgain PC Booster
Remove from Windows XP:
Move to the left of the Task Bar, click Start and open the Control Panel.
Double-click Add or Remove Programs to find the installed application.
Remove the undesirable application and click Uninstall it now.
Remove from Windows Vista or Windows 7:
Open the Start menu from the Task Bar and select Control Panel.
Go to Uninstall a program and right-click the one you wish to delete.
Select Uninstall and then click Uninstall it now to complete the removal.
Remove from Windows 8:
Tap the Windows key to access the Metro UI menu, right-click and select All apps.
Move to the Control Panel and click Uninstall a program.
Right-click the application you wish to delete, select Uninstall and click Uninstall it now.
In non-techie terms:
FastAgain PC Booster is an undesirable system optimizer which does not provide the best services and which clings on for as long as possible. If you choose to delete the application, and this is something we suggest, you may be pursued with different offers and deals; however, you should ignore them completely. Follow the instructions above to delete FastAgain PC Booster from the system. Are you looking for a reliable security tool to guard your PC as well? Click the download button to acquire a legitimate application which will remove attacking infections without any trouble.
Aliases: Fast Again PC Booster.