Do you know what Fast Browser is?
Fast Browser is one of those applications that do not mean harm to your system, but they still hold potentials to do so. That is why this browser is mostly regarded as a potentially unwanted program, or PUP. Although the application itself seems legitimate, it exhibits certain traits that can make it questionable and also suspicious. If you want to keep your computer clean and healthy, it is important that you do not keep any software or tool on it that might threaten your system's security – even if it has the slightest chance. If you want to know more about what our malware specialists have observed with regard to this PUP and why they suggest removing Fast Browser, please continue reading our article.
For starters, this browser does not even have its own official website and even the developer's name is a mystery as it is simply referred to as Fast Browser. When programs do not have a website there are usually two methods of delivery that are most frequently used. One is via free software packages and the other is via freeware websites. The problem with both is that Fast Browser may not be the only unwanted program if you install a package from any of these sources.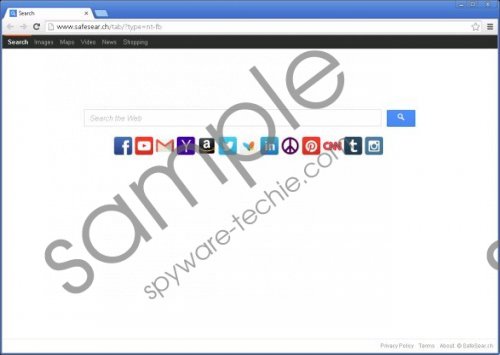 Fast Browser screenshot
Scroll down for full removal instructions
You need to know that you usually have an opportunity to say no to these unwanted apps and potential infections if you go for the Custom installation or simply uncheck the designated checkboxes, if there are any. It also helps to read the license agreement carefully before installation so that you know what additional apps you are about to install. If you miss these steps, it is quite easy to get infected with malware. Once you have installed the whole bundle, you need to act fast to save your system from more problems and exposure. That is why we suggest deleting Fast Browser and all related infections in order to restore your previous security state.
Fast Browser is yet another browser that was created using the Chromium engine; so, as you may expect, it appears to be just like Google Chrome. Of course, it is not a coincidence that questionable applications apply a well-known design to their products to fool unsuspecting users to keep using them. Since free programs usually make money by the number of times users click on the third-party ads and links these apps display, you can imagine that they have sophisticated methods to trick people into clicking. For example, this browser can collect data about your browsing habits and preferences in order to show you targeted advertisements and links to make sure that you will feel connection to them. But these ads are not without risk at all. They might expose you to malicious third-party websites run by cyber criminals. If you want to keep your system safe, it is advisable to remove Fast Browser from your PC before you cause more harm to your computer by visiting dangerous sites.
This browser sets itself as your default browser without your permission and it also makes changes to your system so that it can start automatically with Windows. This is a rather intrusive method and questions the intention of the software. Therefore, you really need to ask yourself the question if it is worth keeping such a program on-board when you have so many other reliable choices.
It is quite a simple task to remove Fast Browser from your system, which may come as a relief. If you follow our guide below, you should be able to do it within a minute. However, in order to keep your system totally secure, it would be best for you to install a reputable antimalware program that can automatically take care of all existing infections and safeguard your PC from them at all times.
Fast Browser Removal
Windows 8 & Windows 8.1
Tap Win+R and type in Control Panel in the box. Press OK.
Select Uninstall a program.
Click on the unwanted program and click Uninstall.
Windows Vista & Windows 7
Open the Start menu and access Control Panel.
Select Uninstall a program.
Click on the undesirable program and click Uninstall.
Windows XP
Press Start and select Control Panel.
Click Add or Remove Programs.
Click on the unwanted program and click Remove.
In non-techie terms:
Fast Browser is a potentially unwanted program that is not a malicious program; however, it has questionable traits and therefore it is not advisable to keep it on your computer. Although the browser may have misleading looks and you would think it is all reliable, unfortunately, it may put your system at risk in several ways. If you do not want to infect your computer with malware or even be exposed to cyber criminals, you had better remove Fast Browser. If you really care about your system's security, you should invest in a trustworthy malware remover, which will protect your PC from all malicious attacks.