Do you know what Farm Frenzy 2 is?
Farm Frenzy 2 is an application which claims to be fast, safe, and easy. In addition, it promises to enable users to play a game called Farm Frenzy 2 for free. Unfortunately, some users believe all those promises and download Farm Frenzy 2 on their systems. If you are one of those users, or have simply noticed the presence of Farm Frenzy 2 on your system, it means that you have to go for the removal of this program. One of the main reasons why we do not recommend keeping it installed is because it is a typical advertising-supported application (adware). If you wonder what this means, you should know that this program shows various commercial advertisements. It might start doing that after some time, so you might not see ads the moment you install this program. Believe us; these advertisements are really very annoying and they might interfere with your activities on the web.
As has been mentioned, Farm Frenzy 2 is classified as adware because it might start displaying various commercial ads on a user's screen. These ads are usually pop-ups, coupons, and banners, but you might start seeing other kinds of commercials too. It is not advisable to click on any of those ads even if it seems that they can help you to save some money at online stores or they simply look reliable. If you still keep clicking on them, you might end up on a corrupted web page very quickly. By saying "corrupted", we mean that the website might contain malicious software. Untrustworthy applications might enter systems very quickly, so you might not even notice how this happens. Research has shown that adware programs might perform other activities too. It is known that they might connect to the Internet and even collect information about user's online activities.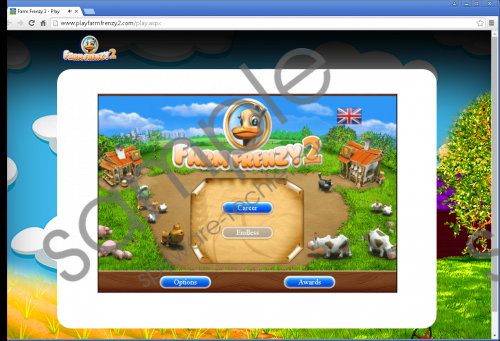 Farm Frenzy 2 screenshot
Scroll down for full removal instructions
Farm Frenzy 2 belongs to the PullUpdate family. This family is comprised of all kinds of adware programs. It means that you might encounter adware once again if you do not have a security tool installed on your computer. All these programs are distributed using the bundling method. In other words, they might slither onto computers together with applications that are known to be freeware or shareware. You should be more cautious in the future if you do not want unreliable programs to enter your system again. In addition, it is advisable to install a really trustworthy security tool on the system and enable it.
It is advisable to delete Farm Frenzy 2 as soon as possible because this program is rather annoying and it will not do anything good for you, except allow you to play a game. As it is really risky to keep this adware program installed, we have prepared the instructions for you. You will find them below the article and they will help you to delete Farm Frenzy 2 manually. If you do not want to erase this program yourself, you should know that you can scan your system with an automatic malware remover too, such as SpyHunter, to get rid of all the existing threats.
Delete Farm Frenzy 2
Windows XP
Click the Start button and select Control Panel.
Click Add or Remove Programs.
Select the program and click Remove.
Windows 7 and Vista
Open the menu.
Click Control Panel and open Uninstall a program.
Right-click on Farm Frenzy 2 and Uninstall it.
Windows 8/Windows 8.1/Windows 10
Launch RUN and enter Control Panel in the box. Click OK.
Click Uninstall a program.
Select the application and then click Uninstall.
In non-techie terms:
If you erase Farm Frenzy 2 manually, other undesirable programs will still be installed on your computer. You have to erase them all from your system because they might cause harm, download and install other malicious programs, and simply do various activities behind your back.