Do you know what Fanatics Search is?
Fanatics Search is an extension that modifies the default search provider to introduce users to the suspicious blpsearch.com search engine. Users are likely to face the extension as they download other programs. They could also be redirected to blpsearch.com when they interact with misleading ads, pop-ups, and links. Although Chrome users can download the extension from the Chrome web store at chrome.google.com/webstore/detail/fanatics-search/aphmipfohigogebjlbkeecamnljollac, and Firefox users can find it at addons.mozilla.org/en-US/firefox/addon/fanatics-search/?src=search, the suspicious extension is most likely to enter bundled with other threats. Therefore, before you continue reading this report and before you learn how to remove Fanatics Search, we suggest that you scan your operating system to check if you maybe have to take care of more scary and dangerous threats first. Hopefully, you do not, and you can focus fully on deleting the suspicious extension.
If you download Fanatics Search from the Chrome web store, you are informed that the extension is presented by Aztec Media. Are you familiar with this company? You might not be, but our research team can link it to Flixtab Movie Center, EasyZip New Tab, My1tab Extension, and other suspicious add-ons. The description of the extension informs that if the user installs it, the default search provider of their browser would be changed to blpsearch.com. Ultimately, the creator of the app is not trying to conceal that it is just a search tool. Since there are no enticing benefits that would lure users in, it is highly unlikely that the official installers attract many users. On the other hand, third-party installers could make users install the extension/search engine by accident. If that has happened, you might think that your browser was hijacked. Even if that were the case, there's no need to panic.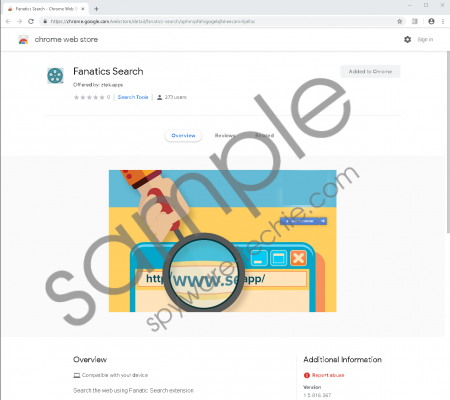 Fanatics Search screenshot
Scroll down for full removal instructions
Once Fanatics Search is installed, every time you enter keywords into the address bar of the browser, you are redirected via blpsearch.com to search.yahoo.com. Because this is done instantly, you might not even realize that you were redirected to Yahoo Search through a different engine. Furthermore, if Yahoo Search is your chosen search provider by default, you might not notice anything different at all. So, what is the big deal with being shown the results of a well-known and respected engine? Unfortunately, they might be modified to include sponsored links, and we cannot know what would happen if you interacted with them. Since there is very little information, we advise deleting Fanatics Search just to stay for the sake of virtual security. Furthermore, the search engine can READ and CHANGE data that you see on the sites you visit. Are you okay with this? If you are not, you might want to remove the add-on without further delay.
If you are an experienced user of Google Chrome and Mozilla Firefox browsers, you probably know already how to eliminate unwanted extensions. That is all you need to do to delete Fanatics Search from your system. Of course, this will not be enough if other threats exist. Once you identify them with the help of a malware scanner, decide how you want to eliminate them. If you want to do it manually, use the removal guides available on spyware-techie.com, or use the comments section to seek help. If you wish to automatically remove Fanatics Search along with other threats, and you also want to have the system protected in the future, we suggest installing anti-malware software.
Remove Fanatics Search
Google Chrome
Open the browser and then enter chrome://extensions/ into the address bar.
In the Extensions menu, find the unwanted add-on and click Remove.
Mozilla Firefox
Open the browser and then enter about:addons into the address bar.
In the Extensions menu, find the unwanted add-on and click Remove (not Disable).
In non-techie terms:
Whether you installed Fanatics Search purposefully or accidentally, you want to think carefully if you should keep this application installed. Since it does not offer any kind of beneficial services, our research team recommends deleting Fanatics Search. The good news is that it is easy to get rid of this strange add-on, as all you need to do is erase the unwanted extension. Once you do that, the default search provider should be restored back to normal. Of course, if malicious threats exist, you can benefit from installing an anti-malware program because it can automatically remove the unwanted extension and ensure protection for your browsers and operating system. Remember that unguarded systems are the first ones to be affected by malicious software!