Do you know what Ezupdater Ads are?
Ezupdater Ads are commercial advertisements that appear on your screen when you have multiple freeware applications installed on your computer. In fact, it is highly probable that the main security problem on your computer is not the program that generates Ezupdater Ads, but something else. And these pop-up ads can actually help you find out whether your system has been exposed to various threats. When you remove Ezupdater from your computer, you should also scan your system to look for other unwanted programs. Please remember that potentially harmful programs tend to travel in packs.
Our research shows that the program in question has an official website that we can access via ezupdater.com. Also, the server that is used by this website is also used by the EZ Software Updater application. This program is a potentially unwanted program that we have discussed previously. In fact, seeing how similar the Ezupdater Ads and the EZ Software Updater titles are, we can assume that this is the application that generates the commercial pop-ups. The program has been active since early 2014, and it seems that it has affected a lot of users worldwide. Luckily, this application is not a malicious infection, and it cannot destroy your system, but you probably would not be looking for the information about it if you thought this application was completely harmless, right?
According to the information collected by our team, this software updater was developed by Bundlore LTD, and it usually travels bundled with other freeware applications. The updater is supposed to help users update their software, especially if they have such programs like Video Downloads, VGrabber, Media Downloader, and others. However, researchers suggest than in some cases this program could also be used to download potentially harmful applications on target computers.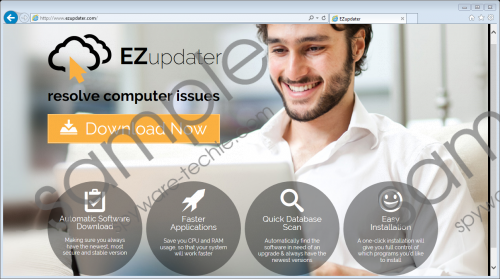 Ezupdater Ads screenshot
Scroll down for full removal instructions
The best way to avoid Ezupdater Ads and all the programs associated with them is to stay away from file-sharing websites. If you need a particular application, you should look for its official homepage, rather than rely on a third-party source, as there is no guarantee that the third-party sources would actually provide you with the applications you need or want. On the other hand, if you downloaded the program from ezupdater.com, perhaps it is time to reconsider your priorities and simply delete the application you do not need. After all, this is the only way to get rid of Ezupdater Ads, too.
Now, if the main security issue is the software downloader, why are we focusing on Ezupdater Ads here? The thing is that there is a problem with such pop-up ads, too. The downloader application may be the one generating the ads, but it is not responsible for the content they display. What's more, the ad content could be related to your most recent searches, and if that is really the case, it means that the application collects information on your web browsing history. Quite a few programs do that for online marketing purposes, but users consider this behavior intrusive, and so they try to avoid that.
Some of you might think that seeing commercial offers for things one has been looking for is not such a bad idea. However, you have to remember that Ezupdater Ads cannot review the content they promote. Hence, anyone could embed their links into these ads. And if cyber criminals decide to do that, nothing will stop them. Of course, malware infection is the worst-case scenario, but you should not take your chances with this one. If there is a risk of a malware infection, you should terminate the suspicious application at once.
Our research team says that you can remove EZ Updater via Control Panel. It should be enough to make Ezupdater Ads disappear from your computer. However, if you feel that there are more potential threats on-board, you can scan your PC with the SpyHunter free scanner. Since your computer's security should be your utmost priority, you should do everything you can to get rid of all the unwanted applications that might expose you to serious threats.
If you need more information on potential infections, please do not hesitate to leave us a comment below. We are always ready to assist you.
How to Remove Ezupdater Ads
Windows 10 & Windows 8.1
Press Win+R and type Control Panel. Click OK.
Open Uninstall a program and remove the application.
Windows Vista & Windows 7
Open the Start menu and go to Control Panel.
Click Uninstall a program and remove the app.
Windows XP
Press the Start button and select Control Panel.
Open Add or remove programs and uninstall the application.
In non-techie terms:
Ezupdater Ads will not allow you to browse the web properly. These ads will flood your screen with commercial offers you should not take. Some of those offers might be embedded with corrupted outgoing links. If you are not careful, you could end up getting infected with malware. Please remove Ezupdater Ads and the program responsible from your computer. And when you are done, invest in a legitimate security tool that would ensure your PC is protected from harm.