Do you know what ExtraMacDeal is?
ExtraMacDeal is free browser add-on for Mac computers. The browser add-on displays third-party commercial offers and advertisements in order to enhance your online behavior. ExtraMacDeal is promoted on the official website extramacdeal.info, but you may encounter this program when browsing other websites. Due to the fact that the browser add-on displays third-party advertisements, it is categorized as adware. We suggest that you remove ExtraMacDeal from your computer because the developers of the program accept no responsibility for all those advertisements delivered to you. ExtraMacDeal does not monitor and endorse third parties, and, by installing this browser add-on, you agree to be provided by third-party ads, which include coupons, pop-ups, web banners, and some other advertisements.
ExtraMacDeal is a JustPlugIt-based browser add-on, and so far we have analyzed many similar browser add-ons based on the JustPlugIt browser add-on creation program. It is important to note that this platform is used to produce programs for Windows and Mac computers. ExtraMacDeal is very similar to Maccdiscount, Maccouponfinder, and some other browser add-ons. If you have no intention of using the program, you should remove it from the computer because it is not enough to ignore all those obtrusive advertisements.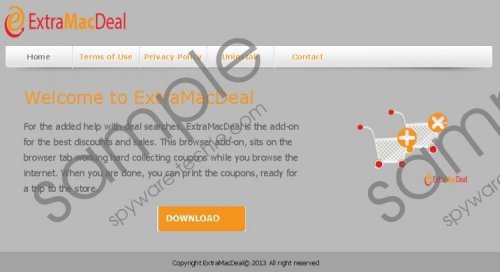 ExtraMacDeal screenshot
Scroll down for full removal instructions
ExtraMacDeal is capable of monitoring you, and it records your preferences and some other anonymous details so that some conclusions about your browsing behavior could be drawn. The program records your clicks, impressions, search terms, browser settings, browser language, time spend on various websites, and other non-personally identifiable information. In some cases, the browser add-on may obtain some personally identifiable information especially if you browse social media websites.
As mentioned above, ExtraMacDeal accepts no responsibility for the sponsors of the program. It means that ExtraMacDeal can be employed by the cyber criminals, and you may not suspect that you are directed to an insecure website. It is advisable to avoid advertising-supported browser add-ons in order to prevent adverse consequences, so, if you want to be secure on the Internet, take action to remove ExtraMacDeal.
Below you will find our instructions that should help you get rid of ExtraMacDeal, and we recommend that you act right now. In case you have any questions, feel free to leave a comment below so that our team can help you solve the issue.
How to uninstall ExtraMacDeal
Open Safari.
Click the Safari menu button.
Select Preferences.
In the Extension tab, select the unwanted browser add-on.
Click Uninstall.
In non-techie terms:
ExtraMacDeal is a browser add-on for the Safari browser, and, if you have this browser add-on on your computer, we recommend that you remove it from the computer as soon as you can.