Do you know what EverydayMemo Toolbar is?
If you want to create memos and notes on your browser's homepage, EverydayMemo Toolbar is an application that might catch your attention. It is meant to make it possible to create notes, as well as help you translate them and learn more about different note-taking techniques. Since the application is free, there is no doubt that some users might download it without thinking about it at all. Of course, whether or not you are investing in a program, it is extremely important that you research it thoroughly because you do not want any surprises. Are there any surprises associated with this PUP (potentially unwanted program)? There sure are, and that is why our research team has analyzed it. Continue reading to learn all about this application/extension, and if you decide to remove EverydayMemo Toolbar, a guide is available below. If you face obstacles or come up with questions when deleting the PUP, contact us via the comments section.
You might have downloaded EverydayMemo Toolbar from everydaymemo.com/index.jhtml or the Chrome web store (chrome.google.com/webstore/detail/everydaymemo/bcokjaadlinkodiejpjnkhoeahbngabi). In both cases, the PUP should not come bundled with other programs, except for the suspicious search tool that is basically integrated into the toolbar. On the other hand, if you use third-party installers, you might find the PUP bundled along with malicious or simply useless programs. Random pop-ups displayed on unreliable webpages could be used for the promotion of EverydayMemo Toolbar too. Without a doubt, if you have downloaded the suspicious application along with other threats, you cannot ignore them. Install a trusted malware scanner to learn if you need to delete anything if you cannot figure that out on your own, and do not forget that even the most harmless-looking apps can turn out to be malicious. If the scanner you employ warns you about threats, make it a point to remove them as soon as you get the chance.
EverydayMemo Toolbar was created by Mindspark Interactive Network, Inc., and this company's name has been mentioned many times by our researchers. That is because this company has birthed hundreds of toolbars, including MyWayNotes Toolbar, WeatherBlink Toolbar, and FreePDFCombiner Toolbar. The names of these applications can give you the general idea of what kinds of services they provide. At the end of the day, they all are pretty useless because their services aren't exclusive or even that beneficial. Why isn't the creator making sure that their products are useful? That is because they appear to be more interested in exposing you to third-party links and a highly suspicious search engine. Whether the suspicious EverydayMemo Toolbar takes over your homepage or just the New Tab, there's a search field in the center. If you enter keywords, you are routed to search.myway.com, and the results shown to you are pretty much untrustworthy. MyWay Search takes Google search results and modifies them to include sponsored links and advertisements. This is the main reason we suggest removing the PUP.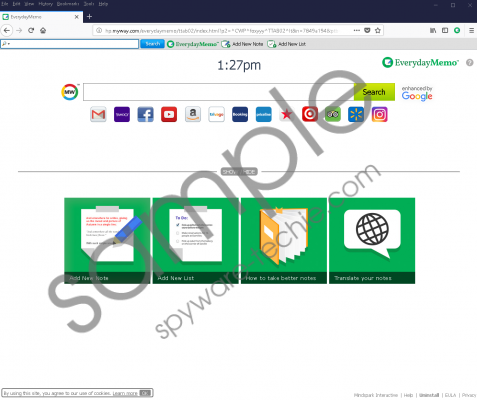 EverydayMemo Toolbar screenshot
Scroll down for full removal instructions
If you want to take notes, EverydayMemo Toolbar might seem like the perfect tool, but there are plenty of mobile apps and even legitimate applications compatible with desktop computers that can assist with that. The toolbar might seem to be genuine and reliable, but it can track information about you (and share it with unknown parties too!), as well as introduce you to a search engine that we do not consider reliable. If you agree that it is best to delete EverydayMemo Toolbar, you need to scan your operating system first because you want to make sure that other threats do not exist. If they do not, you can follow the instructions below. If they do, maybe it is best to install an anti-malware program? It will delete malicious threats automatically, and it will also keep your system protected.
Remove EverydayMemo Toolbar
Mozilla Firefox
Open the web browser and tap keys Alt+T.
Select Add-ons in the Tools menu to open the Extensions menu.
Click the Remove button linked to the undesirable extension.
Google Chrome
Open the web browser and tap keys Alt+F.
In the Chrome menu move the cursor over More tools to expand the menu and then click Extensions.
Click the Remove button linked to the undesirable extension.
Internet Explorer
Open the Control Panel menu via the Start/Windows menu on the Taskbar or via the RUN dialog box (tap Win+R on the keyboard and enter control panel into the dialog box).
Navigate to Uninstall a program to find all available uninstallers.
Select the undesirable application and then click Uninstall.
In non-techie terms:
Even if you have downloaded EverydayMemo Toolbar yourself, you need to think if you should delete this PUP from your operating system. It collects information, and it is likely that this information is then shared with advertisers, whose ads are delivered via the search tool. MyWay Search looks like a genuine search engine, but our researchers warn that it can showcase modified Google search results, and that is not how a reliable tool should work. Whether you choose to delete EverydayMemo Toolbar due to security reasons or because the application simply does not serve you in a beneficial manner, you can use the manual removal guide available below, or you can install an anti-malware program. Choose the latter option if other threats exist and if you need protection in the future.