Do you know what Everbe 2.0 Ransomware is?
Everbe 2.0 Ransomware is a malicious computer infection that aims to collect your money. It belongs to probably the biggest group of computer infections these days, as it is a ransomware program that encrypts files on the infected system. It is really frustrating to deal with ransomware infections because they often leave no way to restore the encrypted files, but it still should not push users into spending their money on decryption keys that the criminals might not even deliver in the first place. Users must remove Everbe 2.0 Ransomware from their computers first.
Our researchers have seen similar programs before because Everbe 2.0 Ransomware happens to be a new variant of the Everbe Ransomware infection. It means that it uses the same RSA-2048 encryption algorithm to lock up your files, and it may employ several methods of distribution.
Perhaps the most important thing about ransomware programs is that users often can prevent them from entering their systems, but they still manage to slither in out of pure negligence. Let's take spam emails, for example. Spam emails are the most common mean of distribution employed by almost every single ransomware infection out there.
While most of us can recognize spam emails in an instance, there are still users who may open them accidentally because those messages look like legitimate notifications from reliable sources. For instance, a spam message may look like a shipping invoice from an online store or like a financial record account from some institution. However, it is important to remember in such a situation that reputable companies seldom send important information in file attachments (it is far more common to receive it embedded within the email itself). Thus, it is necessary to educate yourself about the ways ransomware programs get distributed around.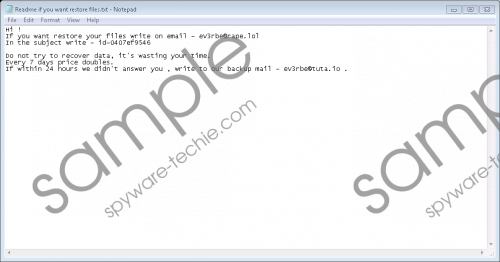 Everbe 2.0 Ransomware screenshot
Scroll down for full removal instructions
Everbe 2.0 Ransomware doesn't joke around when it enters your computer: The moment you get infected with this program, it deletes Shadow Copies. The thing is that if you enable Shadow Volume Copies, it is sometimes possible to restore deleted or damaged files from that Volume (of course, you need help from a professional for that). However, with the Shadow Copies deleted, the chances to restore your files decrease significantly. Then you need to rely on an external hard disk where you keep copies of your data. Provided, that is, if you have such a backup in the first place.
While Everbe 2.0 Ransomware does not affect the Windows system because it needs your computer to remain operable so that you could transfer the ransom fee. However, you can be sure that most of your other files will be successfully encrypted, and your system will no longer be able to read them. To push you into paying the ransom, Everbe 2.0 Ransomware drops the ransom note in every folder that is affected by the encryption. This is what the ransom note says:
Hi!
If you want to restore your files write on email – ev3rb@rape.lol
In the subject write – id-0000xx0000

Do not try to recover data, it's wasting your time.
Every 7 days price doubles.
If within 24 hours we didn't answer you , write to our backup mail – ev3rbe@tuta.io
As you can see, the sum is not indicated in the ransom note, so it is very likely that the criminals might come up with any sum they want. Not to mention that they also give you their backup email address. This means that their server connection is not stable, and they might go offline at any moment. Consequently, they might forgo issuing the decryption key the moment they receive your ransom payment. This just proves that you should never pay a single cent to these people.
Simply remove Everbe 2.0 Ransomware from your computer following the instructions below. If you think that you cannot do it on your own, please acquire a powerful security tool that will terminate all the malicious files for you automatically.
However, if you do not have a system backup drive, you might say goodbye to your files for good. There is no public decryption tool available at the moment, and so you may have to look for various locations where you might have saved your files before. As far as the encrypted files are concerned, you'll just have to delete them along with the infection.
How to Remove Everbe 2.0 Ransomware
Open your Downloads folder.
Delete the most recently downloaded files.
Delete the Readme if you want to restore files.txt file from every affected folder.
Scan your computer with SpyHunter.
In non-techie terms:
Everbe 2.0 Ransomware is a dangerous program that locks up your files. When this infection enters your computer, it encrypts your files. It means that you cannot open them anymore. The program will ask you to pay money to open your files again. You mustn't pay. Refer to a professional technician for the possible ways to restore your files. Remove Everbe 2.0 Ransomware from your system at once with a security tool of your choice and employ safe web browsing habits to avoid similar infections in the future.