Do you know what eTranslator is?
eTranslator is an adware application which is promoted as a translation tool for Firefox Mozilla and Google Chrome (at the moment not compatible with Internet Explorer). We advise you to remove this application because, firstly, it is not as functional as other similar translation services. Moreover, just like any other adware, is it created to promote third-party content and transfer you to the featured sites. It might not seem alarming at first, but you will change your mind when you start seeing ads in the Russian language opening up on your browser no matter which website you go to. Have in mind that clicking on the promoted content might transfer you to unsafe sites, mostly of Russian origin, that contain malware. eTranslator does not deserve your trust and should be deleted if you do not want to risk harming your computer system.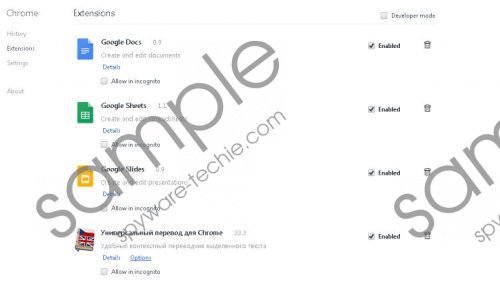 eTranslator screenshot
Scroll down for full removal instructions
If your browser is already displaying all kinds of Russian ads, it is possible that eTranslator is already on your machine. However, you probably did not download eTranslator from its official site etranslator.pro, because your browser would have blocked it immediately. You should bear in mind that malicious applications like eTranslator might employ stealthier methods to enter your computer. eTranslator might be distributed with additional unwanted or potentially malicious programs; therefore, you should be vigilant when browsing pirated sites or downloading illegal software.
Remove eTranslator because it is Russian application which displays Russian advertisements; like most adware, it also collects data about your Internet browsing activities, however, we doubt you want to some suspicious Russian application spying on you even if it is only for marketing or advertising purposes. The application is in a foreign language; therefore, using it might be even more complicated if you are not familiar with the language. There are so many translation tools in English that a both reliable and functional, so why keep eTranslator on your computer.
We are sure you have decided that you want to remove eTranslator without any further delay. You can reach the application via Control Panel where you can find and delete it from the program list. However, due to the suspicious nature of eTranslator, we encourage you to give preference to automatic antimalware tools. In this way, you will be sure that this adware application and all the related contend were removed. Having a trusty antimalware removal tool will pay off in the future because it will terminate all threats before they have gained access to your computer.
Remove eTranslator from your computer
Windows 8 & 8.1:
Open the Charm bar.
Choose Settings.
Select Control Panel.
Choose Small Icons under View by.
Click Programs and Features.
Select eTranslator.
Click Uninstall/Change.
Windows 7 & Vista:
Open the Start Menu.
Select Control Panel.
Choose Small Icons under View by.
Choose Programs and Features.
Select eTranslator.
Click Uninstall/Change.
Windows XP:
Open the Start Menu.
Click Control Panel.
Click Category View on the left.
Choose Add or Remove Programs.
Select eTranslator.
Click Remove.
In-non techie terms:
eTranslator is a Russian adware application that will start spamming you with promoted Russian advertising content the moment it gets on your computer. This application is potentially dangerous because it might also work as the entry for malicious content to get access to your system. Use a reliable antimalware removal tool to terminate eTranslator and all the threats that have entered your PC while this adware application was present on your system.