What is eTogether?
eTogether is a browser extension for Google Chrome, and its theme is online dating. We have deemed it as a potentially unwanted program because of shady features that it has. You might want to remove it as these functions include replacing your browsers homepage and other search-related settings. However, officially it sets out to help users look for persons of interest, and it succeeds in doing so. The promoted dating website is legitimate, but we take issue with the browser extension as it includes some undesirable features that we want to elaborate on throughout this article. While this extension is not malicious, it still has some questionable features, so if you are a user of this program, then we invite you to read this whole article.
This application is owned by the same company that owns http://etogether.com, the dating website that goes hand in hand with eTogether. The Website says that it is "powered by Dating Factory" which enables entrepreneurs to set up their dating websites. Dating Factory is based in Switzerland, and it is an entirely legitimate company. Therefore, this program's origins indicate that it comes from a legitimate source, and it is evidently not malicious in nature.
As far as this application's distribution methods are concerned, our security analysts have found that you can easily get this extension from the Chrome Web Store. Interestingly, it was uploaded to this store not once but twice, one time as an extension under the Productivity category and the second under the Search Tool category. The names of the applications on the Chrome Web Store are eTogether Start and Search By eTogether respectively. As far as we are aware, these extensions are not featured on any other website and are not bundled with third-party software. Note that these two extensions are not identical as they have small differences in what they do to your browser.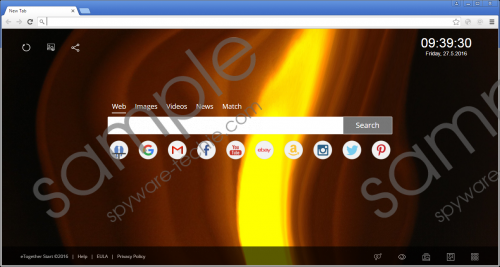 eTogether screenshot
Scroll down for full removal instructions
Our researchers say that eTogether Start is set to add a custom homepage and new tab page while Search By eTogether is configured to replace the default search provider with Match.searchalgo.com or Searchalgo.com, but it is the same search engine regardless. Furthermore, our malware analysts say that this particular search engine is used in other browser extensions such as WowMovix, goMovix Start, and Musix Search. Research has concluded that the extensions come from the same developers as this browser extension.
Currently, this particular browser add-on is very popular is countries such as India, Pakistan, Indonesia, United States, Egypt, Algeria, and Saudi Arabia respectively. In total, this extension has more than 20, 000 users worldwide and this number is set to increase even more. We have received reports that eTogether is promoted using adware-type software that presents the ads in the form of coupons, banners, and pop-ups. It appears that you can install this application directly by clicking on an advertisement and clicking Install. We have seen that the ads promoting this program's download link usually contain text such as "local singles near you" and similar statements.
We advise that you delete this extension because it is set to modify your browser in an undesirable manner. We are aware that Match.searchalgo.com (also Searchalgo.com) is not a reliable search engine because it can display promotional links in its search results. The modified search results are in no way related or influenced by the dating website or its browser extension. Nevertheless, you should not trust Match.searchalgo.com because its origins are largely unknown. We think that it is part of a web monetization scheme, and its job is to subject you to promotional links and generate advertising revenue. Perhaps this revenue is shared with the developers of eTogether, but there is no proof of that.
Whatever the case may be, this browser extension is undesirable because it modifies the settings of the web browser and replaces the homepage, search provider and new tab page with its promoted search engine. Therefore, we invite you to remove it using the instructions provided at the bottom of this article.
Remove this extension from Chrome
Launch the web browser.
Press Alt+F.
Open More tools and select Extensions.
Find the extension and click the Remove button.
In non-techie terms:
eTogether is a potentially unwanted program that promotes a certain online dating website. We are concerned with the fact that it is configured to change your browser's settings and impose its own search engine. It is set to replace the homepage, new tab page, and search provider. Thus, it forces you to use its search engine which might contain shady promotional links in its search results. You should consider getting rid of it as you cannot trust in entirely.