Do you know what Eticosearch.com is?
Eticosearch.com is an application that you do not want to run on your system as it is yet another intrusive browser hijacker that you should remove ASAP. A shady part of this search provider is that the website does not contain Terms & Conditions or Privacy Policy documents.
Thus, it signifies that the company behind it is indifferent about giving you the required information about their search engine and its services. Unfortunately, there is no information about the third party affiliates and whether they are tracking your personal information or online activity. Our team firmly encourages you to remove Eticosearch.com from your PC.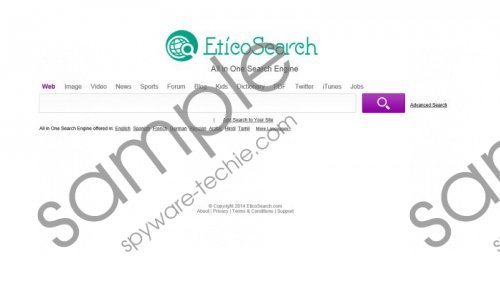 Eticosearch.com screenshot
Scroll down for full removal instructions
At first sight, Eticosearch.com might look like a legitimate search provider as the interface is user friendly and does not seem dangerous at all. But remember that you will be bothered by malicious and dangerous traits of Eticosearch.com until this infection is present on your PC. One of the most dubious features we have recorded was that when we tried using the search tool a pop-up window appeared asking to enter Facebook account details.
Furthermore, the hijacker is capable of connecting to the Internet without permission, indicating that the Eticosearch.com application might be able to update itself, download and install additional toolbars or extensions onto your browser that you will need to delete as well.
The hijacker disrupts the use of search tools as a lot of search results might be third-party sponsored links. Just like a lot of other hijackers (e.g., qone8, webssearches.com, awesomehp.com, etc.) out there, Eticosearch.com is driven by profits gathered from third parties who pay the developers to get their sponsored links on the web pages you browse. We firmly recommend not clicking on any of these adverts as there is no way to determine by whom and for what purposes are those websites run. Eticosearch.com makes your browser potentially dangerous to use until your remove the infection.
Keep in mind that it is quite complicated to remove Eticosearch.com manually. That is so because the infection is capable of entering the Windows system deeply (can create folders and files within the system and tweak or edit the Windows Registry system) and does not include an uninstall option via Control Panel. You can restore your browser settings manually, but the malicious infection will not go away as a lot of its files and registry entries might still be present on your PC unless you remove Eticosearch.com with a professional antimalware tool. That is why our skilled research team recommends you to scan your operating system after manual removal in order to detect and delete any leftovers of Eticosearch.com. Remember that if you want to avoid other infections you need to install and run a powerful, professional antimalware tool at all times.
Delete Eticoserach.com from your browsers
Delete from Mozilla Firefox
Hit Alt+H simultaneously on your keyboard and select Troubleshooting information.
Click Restart Firefox…
Confirm your selection by clicking Reset Firefox in a pop-up window.
Click Finish.
Delete From Internet Explorer
Hit Alt+T simultaneously on your keyboard and select Internet Options.
Select and Delete the website provided by the infection from the Home page section.
Enter the website of your choice and click OK.
Hit Alt+T again but now select Manage Add-ons.
Select Search Providers.
Restore your default search engine and Remove eticosearch.
In non-techie terms:
Eticoserach.com is a detrimental and intrusive browser hijacker that you need to remove immediately. This infection could turn out to be a gateway to other maybe even more severe infections, thus eradicating it is crucial. If you follow the steps below you should have no problem having Eticoserach.com removed from your PC.