Do you know what Esuack is?
Esuack is an adware application that annoys computer users with a flood of commercial ads. It doesn't really provide any other meaningful service that could compensate for the disruptions it causes. While the ads Esuack delivers to your web browser screen could be tempting, it can be dangerous to click on them, so we recommend immediate removal of Esuack.
Adware like Esuack is usually distributed via freeware bundling. While Esuack, like all adware made by SuperWeb LLC, has its own website, information it provides is sorely lacking. It's safe to say that if you have Esuack on your computer, it came bundled with free programs. This distribution method preys on user's lack of attention while going through installation steps. If you're not careful, you could catch some dangerous threats to your security, as bundles are sometimes known to contain malware. Even if this isn't very common, the safe and sensible way to protect your system is to download a professional malware scanner that can also remove anything dangerous.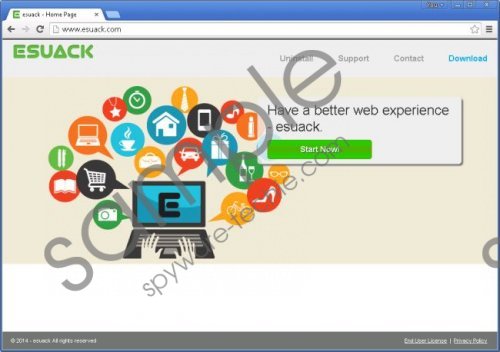 Esuack screenshot
Scroll down for full removal instructions
Once Esuack is installed, it adds an extension to your web browser. Using the access that the extension provides, Esuack tracks your browsing. Every detail, like the websites you visit most often and things you look to buy on online shopping sites, could be worth actual money to SuperWeb. This is because when Esuack starts showing you commercial adverts that are targeted according to the information it gathered before, the developers get paid for every ad you click.
This is called pay-per-click. This system is universally used among adware developers to make profit for something that essentially annoys computer users. Pay-per-click works by rewarding the people who run adware, like Esuack, for every increase of web traffic to a specific third-party website. By clicking ads, you increase traffic to the website it links to. You will not get anything except annoyance out of this deal, which is very unfair in our opinion. We believe that the best thing to do in this case is to remove Esuack immediately.
While it's not hard to uninstall Esuack from your computer, we believe that manual removal isn't the best option. It's much better to download a trustworthy antimalware tool. When you click a button, it will scan your system, find any threats and wait for your order to deal with it. Click a button again, and all threats will be gone, allowing you to rest easy, knowing that your computer is safe. Just in case you don't want to do that, the instructions for manual Esuack removal are included below.
Remove Esuack
Windows 8
Right-click the bottom-left corner of your screen and go to Control Panel.
Click Uninstall a program, choose Esuack, and click Uninstall.
Windows 7 and Vista
Go to Start menu, click Control Panel.
Click Uninstall a program, choose Esuack, and click Uninstall.
Windows XP
Click Start and go to Control Panel.
Click Add or Remove Programs, choose Esuack, and click Uninstall.
Remove Esuack from Mozilla Firefox
Press Ctrl+Shift+A and go to Extensions.
Select Esuack and click Remove.
In non-techie terms:
Esuack is an annoying adware application that shows you advertisements. It tracks your browsing data to target its commercial ads better. It's distributed in freeware bundles, which could mean that there're actual threats on your system. While Esuack developers get paid for every ad you click, you get nothing. All of this doesn't sit well with us, so we recommend removing Esuack from your computer.