Do you know what Eshield Safe Search is?
Eshield Safe Search might appear on your Internet Explorer, Google Chrome or Mozilla Firefox if you install eShield on the system. Of course, this program can slither onto your computer without your permission as well. It does not really matter how this program has entered your system because we suggest that you remove it as soon as possible. Some computer users find it difficult to delete Eshield Safe Search. If you are one of them and want to find out how to remove Eshield Safe Search, you should definitely read this article from beginning to end.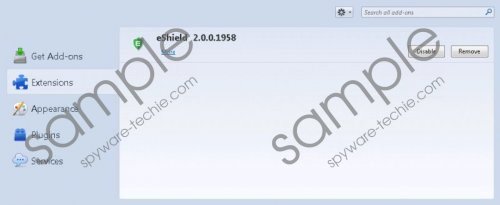 Eshield Safe Search screenshot
Scroll down for full removal instructions
Our researchers have found out that search.eshield.com, which will be set after the installation of eShield software, is not a 100% trustworthy search tool even if it promises to mark all the websites provided for you according to the level of danger. It might really seem that Eshield Safe Search might help you to protect the system from malicious software; however, it has also been found out that the search engine might even provide you with ads; they will be placed together with search results and you might click on them very quickly. In order not to cause harm to your PC via those ads, you should remove Eshield Safe Search as soon as possible.
You should definitely check whether Eshield Safe Search is the only suspicious program that is installed on the system. You can, of course, check your system's condition yourself by checking Control Panel or the Add-ons Manager; however, the easiest way to find out existing infections is to scan PC with an antimalware scanner. We recommend using the SpyHunter diagnostic scanner for this matter because we know that it can detect various infections and then remove them very quickly.
In order to remove Eshield Safe Search, you will have to visit Control Panel and then remove the eShield entry. There is a possibility that you will have to change your homepage yourself as well. We have provided the instructions (see below) that will help you to undo the changes manually; however, you can also get rid of Eshield Safe Search automatically as well. In order to remove threats automatically, you have to acquire a trustworthy tool and then perform a system scan. We highly recommend that you double-check whether your tool is trustworthy.
Remove Eshield Safe Search
Windows XP
Click the Start button.
Select Control Panel.
Click Add or Remove Programs.
Select the application and click Remove.
Windows 7 and Vista
Open the Start menu.
Select Control Panel.
Click Uninstall a program.
Right-click on the unwanted program and click Uninstall.
Windows 8
Tap the Windows key + R.
Type in control panel in the box and click OK.
Click Uninstall a program.
Select the suspicious software and click Uninstall.
Internet Explorer
Open your browser and tap Alt+T.
Select Internet Options and open the General tab.
Type in the URL of your homepage and click OK.
Mozilla Firefox
Open your browser and tap Alt+T.
Select Options and click on the General tab.
Enter the address of your homepage and click OK.
Google Chrome
Launch your browser and tap Alt+F.
Select Settings.
In On startup section, mark Open a specific page or set of pages and click Set pages.
Add a new page and click OK.
In non-techie terms:
You should be very careful in order not to allow suspicious programs to enter your system. According to our security specialists, you should not only install a trustworthy antimalware tool, but also be very careful while surfing the Internet. In addition, you should definitely stop downloading programs from untrustworthy websites if you do not want to encounter malware.