Do you know what Error.policeguardstate.org is?
Error.policeguardstate.org is a deceitful domain that provides you with a fake notification which looks as if it had been issued by the law enforcement institutions. Error.policeguardstate.org provides you with a warning which contains false allegations and demands that you pay a certain sum of the money. It is so because the creators of the warning want to obtain your money, so it is very important to ignore the misleading notification. Error.policeguardstate.org is not a computer threat but you may find that you cannot access any other websites. Do not think that your local police have encrypted your files so that you cannot use the computer. Error.policeguardstate.org, unlike screen lockers, does not afflict the operating system so you can easily get rid of the ransom warning. Do you want to know what you should do next? Keep on reading to find the answer.
Computer users located in different countries find different warnings at Error.policeguardstate.org, which is done to provide them with the notifications that seem to be issued by the local police or some other authoritative institutions. Hence, Error.policeguardstate.org may suggest that the user has to deal with FBI, Europol, the National Police Force of Spain, Royal Canadian Mounted Police (Gendarmerie royale du Canada) or some of other institution. In order not to confuse computer users, malware researchers label different interfaces according to the emblems or the headlines of the malicious warnings. For example, one of the fraudulent warning that can be accessed through Internet browsers is called Atencion Su Navegador Ha Sido Bloqueado Virus and is aimed at deceiving Spanish-speaking computer users.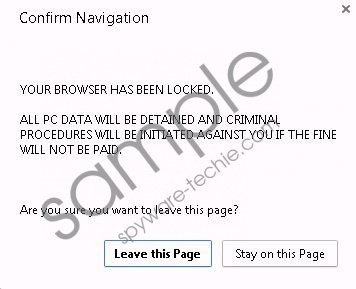 Error.policeguardstate.org screenshot
Scroll down for full removal instructions
Error.policeguardstate.org is not a virus even though some computer users may think so. If you have accessed Error.policeguardstate.org and find that a fine of €100 is imposed on you, simply ignore the warning. Usually the user is said to be obliged to use Ukash or Paysafecard, which are legitimate cash payment methods that work on numerous shopping websites. However, in this particular case you should ignore the warning and make sure that the system is protected from more dangerous threats.
The instructions given below should help you get rid of Error.policeguardstate.org. Do not worry if you have never had to deal with phishing websites because the removal does not require technical knowledge. All you have to do is to end the process of the browser that is affected by Error.policeguardstate.org.
How to remove Error.policeguardstate.org
Windows
Move the cursor to the right side of the Taskbar.
Right-click and select Task Manager.
Open the Processes tab and end the process of Internet Explorer, Google Chrome or Mozilla Firefox (iexplore.exe, firefox.exe, chrome.exe).
Mac OS X
Press Command+Option+Esc.
Select the processes of the browser.
Click Force Quit.
In non-techie terms:
Error.policeguardstate.org is a domain which should be avoided because of the misleading warning to which the user is exposed. If you are exposed to Error.policeguardstate.org or a similar domain, close the browser window and scan the computer with a reliable scanner.
Aliases: Error.policeguardstate virus.