Do you know what EpicScale is?
EpicScale is not as reliable and benevolent as you might think. Our malware researchers identify the app as a potentially unwanted program that requires attention and, possibly, removal. Most computer users who install the application onto their operating systems are not familiar with it or its concept. Officially the app is presented as the program that collects donations when you purchase products online, which suggests that you don't actually need to spend extra money to make a donation. Of course, many users agree to install the application, because it does appear to be good-natured. Despite this, you might need to delete EpicScale from your operating system, because it can act in a very suspicious way.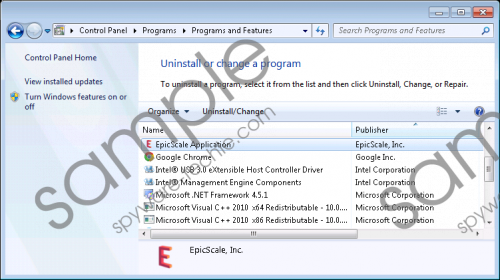 EpicScale screenshot
Scroll down for full removal instructions
Epicscale.com is the official website representing EpicScale, but recently the application has been spread via the uTorrent installer. According to our researchers, uTorrent 3.4.2 is the latest version of the torrent client that has been employed for the distribution of the suspicious PUP (potentially unwanted program). Even though this PUP is not installed silently, you must remove it due to silent activity. If your computer is powerful, it is unlikely that you will face anything suspicious after downloading EpicScale, but if your PC is older, you might find that the operating speeds have decreased. This is an issue that you can solve by removing EpicScale. If you remove this PUP, it will no longer use up CPU resources to mine bitcoins. Bitcoin is a virtual currency that is collected by specifically designed software. It is impossible to know for sure how these bitcoins will be used, which is why we advise removing EpicScale.
Even though the activity of EpicScale is complex and unpredictable, the removal of this PUP is quite straightforward. Our manual removal guide explains how to remove EpicScale from your Windows operating system using a few simple steps. After this, you should evaluate your virtual protection. Reliable security software would inform you that EpicScale is a potential threat and would recommend you to remove it. If you have not received a warning of this nature, it might be time for you to install a more reliable and useful security tool that could warn you about and delete computer threats.
Delete EpicScale from Windows
Delete from Windows XP
Click the Start button on the Taskbar.
Select Control Panel and double-click Add or Remove Programs.
Remove the undesirable application from the Change or Remove Programs menu.
Delete from Windows Vista and Windows 7
Navigate to the left side of the Taskbar and click the Windows/Start button.
Open Control Panel and go to Uninstall a program (under Programs).
Right-click the app you want to remove from your operating system and click Uninstall.
Delete from Windows 8 and Windows 8.1
Simultaneously tap Win+R keys on your keyboard to launch RUN.
Type Control Panel, click OK to open the menu, and move to Uninstall a program.
Right-click the undesirable program you want to remove and choose Uninstall.
In non-techie terms:
The potentially unwanted program EpicScale is truly suspicious, which is why we believe that computer users should delete it from their operating systems. If you do not know much about the removal of undesirable programs, you can follow our manual removal guide above. You can also start a discussion in the comment section below. As you can see below, we have created a removal guide that can also help you remove malware in extreme cases when your operating system gets paralyzed. It is unlikely that you will need to use these instructions to delete EpicScale, but you should be aware of them.