Do you know what EntertainmentNewsNow Toolbar is?
EntertainmentNewsNow Toolbar is a browser extension that comes from a large Mindspark toolbars family. Like many other similar plugins from it, the application falls under the classification of potentially unwanted programs. It means it could behave in an undesirable manner that might make a user want to erase a program even if he chose to install it himself. If you read the rest of our article, you can learn more about the toolbar's working manner, channels through which it could be spread, and other things that users who come across this application should know. Also, if you take a look at the removal guide provided at the end of this report, you can find instructions that show how to erase EntertainmentNewsNow Toolbar. They may come in handy if you decide you do not want to keep this plugin on your browser anymore.
There are a couple of sources where the EntertainmentNewsNow Toolbar was noticed so far. The first one is its official website called entertainmentnewsnow.com/index.jhtml. The other one is the Chrome Web Store page, from where users are able to download the extension version that is compatible with Google Chrome. Besides the two sources, we believe the application could be spread via pop-up advertisements since a lot of potentially unwanted programs travel this way. Thus, to avoid them, we always recommend not to click ads suggesting unknown freeware if you are not one hundred percent sure it reputable. In fact, it is best not to click any ads suggesting a tool or other content if you are visiting torrent websites or other unreliable sites. As an extra precaution, we could suggest keeping a legitimate antimalware tool that could help you recognize untrustworthy tools and keep your device clean.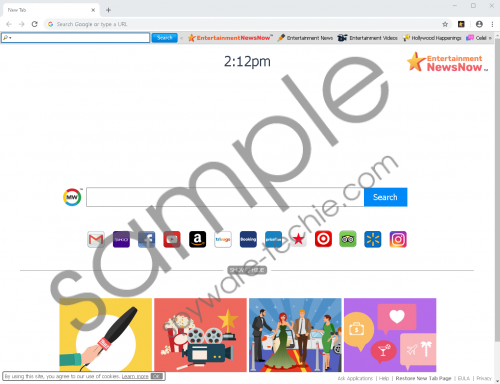 EntertainmentNewsNow Toolbar screenshot
Scroll down for full removal instructions
EntertainmentNewsNow Toolbar is compatible with Google Chrome, Internet Explorer, and Mozilla Firefox. Once it settles in, it ought to place a toolbar with an extra search box just below a browser's address bar. This toolbar could also contain links to websites providing news and entertainment. Keep in mind that such sites could be easily bookmarked and reached without the extension. Another change that might happen is related to your browser's preferences. To be more precise, the potentially unwanted program might replace your homepage or new tab page with a search tool called search.myway.com. It is crucial to know that this search engine might show modified Google search results. Thus, there is a possibility that such content might contain third-party ads. It is difficult to see what precisely such ads could promote or where they could come from, which means there is a risk some of them could be unreliable.
If you do not like how EntertainmentNewsNow Toolbar might have changed your browser preferences and hate an idea its search engine could show third-party ads from unknown sources, we advise deleting it. There are a couple of ways to take care of such an application. If you think you can handle the task, you could follow the removal guide available below and delete EntertainmentNewsNow Toolbar from your browser manually. The other way to deal with this potentially unwanted program is to employ a reputable antimalware tool that could erase it after performing a system scan.
Erase EntertainmentNewsNow Toolbar from Internet Explorer
Windows XP/Windows Vista/Windows 7
Navigate to the Start menu.
Access the Control Panel.
Pick either Uninstall a program or Add or Remove Programs.
Click the unwanted application and select Uninstall.
Windows 8/Windows 10
Tap Windows Key+R.
Insert Control Panel and press OK.
Choose Uninstall a program.
Select the potentially unwanted program and press Uninstall.
Erase EntertainmentNewsNow Toolbar from other browsers
Google Chrome
Open Google Chrome.
Paste this link: chrome://extensions into the browser's address bar.
Press Enter and search for the potentially unwanted program.
Tap Remove and exit Extensions menu.
Restart your browser.
Mozilla Firefox
Open Mozilla Firefox.
Paste this link: about:addons into the browser's address bar.
Click Enter and go to Extensions.
Locate EntertainmentNewsNow Toolbar and remove it.
Exit Extensions menu.
Restart your browser.
In non-techie terms:
EntertainmentNewsNow Toolbar is one of many Mindspark toolbars that work and look almost identically. Most of our researched samples, including the latest one we discuss in this article, might change a user's homepage and new tab page with a particular search engine called search.myway.com. Our researchers say that this search tool could use a modified Google search engine to gather results that would match inserted keywords. The problem is that modified results could mean that the tool's creators might be able to modify results before they are displayed. For example, they could inject them with questionable advertising content from various third parties. This may not necessarily happen, but if you do not want to take any chances, it might be best to use the original google.com or any other reputable search engine instead of search.myway.com. To get rid of it, you would need to erase EntertainmentNewsNow Toolbar, and this you can do either with the removal guide placed above or a reliable antimalware tool of your choice.