Do you know what EnjoyWiFi is?
If you ever come across a program named EnjoyWiFi, we highly advise you not to download or install it. That is so because it happens to be one more potentially unwanted program. Such classification has been made by malware researchers at Spyware-Techie.com due to several reasons. One of them being its questionable functionality. As it turns out, this application could interfere with your daily online activities eventually making them annoying and frustrating. Another major reason for such categorization is its suspicious distribution. In the article, we provide our research team's findings regarding the inner workings of this potentially unwanted program and a few virtual security tips that will help you avoid dubious programs. We also include a comprehensive removal guide that you can use to delete EnjoyWiFi without encountering any major problems.
Some users might be tempted into downloading and installing EnjoyWiFi as it could be advertised as a useful tool to have active on your PC. It should provide you with various information regarding your computers state along with the so-called ability to share your Wi-Fi. Unfortunately, these features can be considered rather worthless, because you can find out about the core temperature of your CPU, GPU, and hard drive by using native Windows programs. Additionally, the ability to share your wireless connection might simply not work at all times. While such poor functionality should be a reason enough to convince you that you need to remove this application, you should also know there is something more to this program. As it turns out, it could establish a lasting connection to a suspicious adware servers. That means that your web browser could get filled with an unusual amount of third-party web content, which in most cases manifests as various commercial ads, pop-ups, and coupons. Due to such functionality, surfing the web will become a much more annoying and bothersome task. What makes matters worse is the fact that all the content is presented randomly. In some cases, you could be flooded with so many pop-ups, ads, and coupons that your web browser might simply crash without any warning. To regain your browser's default functionality so you could surf the web the way you like, you must execute a complete removal of EnjoyWiFi; otherwise, the invasive functionality of this potentially unwanted program will continue to bother you.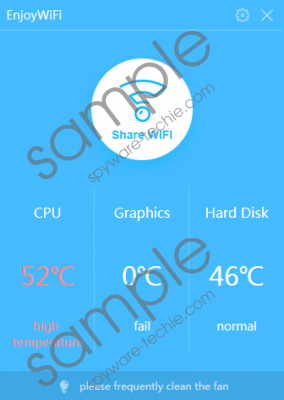 EnjoyWiFi screenshot
Scroll down for full removal instructions
Questionable distribution of EnjoyWiFi raises certain concerns, to put it lightly. During the analysis, it has been discovered that this potentially unwanted program could be spread via bundled installers, which are infamously used by malware developers. Thus, there is a chance that other devious applications could enter your computer with the program in question. Make sure to check your computer for any suspicious or unknown software if you already have EnjoyWiFi active on your PC. While potentially unwanted programs are not malicious, it is still important to keep your system free of them. To do that you need to take preventative steps. Your best bet to avoid bundled installers is by downloading all of your programs form official developers websites only. That is so because unauthorized download web pages tend to provide tons of software bundles. Furthermore, we recommend paying your full attention to every single installation step of any application because by reading everything on the screen during the setup process you could be presented with an opportunity to cancel the installation of some undesirable program. Likewise, we also urge users to learn as much as they can about any program they are about to download; this is critical since malware developers tend to use cunning and otherwise manipulative marketing techniques to trick users into downloading their devious programs. While practicing safe browsing habits will significantly improve your virtual security, you must also have a reliable antimalware tool for full protection. Such a tool can detect and terminate any virtual threat automatically in a matter of minutes.
It should be quite clear why malware experts at our internal labs advise you to delete EnjoyWiF. The removal procedure is rather simple as you can get rid of it via Control Panel. To be on a safe side, we highly advise you to conduct a thorough analysis of your entire operating system for potential leftovers related to EnjoyWiFi once you are done with the instructions below. This is important because traces of suspicious program might act in an invasive manner. For example, EnjoyWiFi could be restored if there are enough of its leftovers active on your personal computer. In other situations, those same traces might be just enough for the potentially unwanted program to continue its devious functionality.
How to remove EnjoyWiFi from your computer
Windows 7
Click the Windows button.
Select Control Panel and click Uninstall a program.
Right-click the unwanted application.
Select the Uninstall option.
Windows 10
Right-click the Windows button.
Select Control Panel and click Uninstall a program.
Select the unwanted program.
Click the Uninstall button.
Windows 8 and 8.1
Right-click your Task Bar.
Select Control Panel and click Uninstall a program.
Select the undesirable program.
Click the Uninstall option.
Windows XP
Tap the Windows key on your keyboard.
Select Control Panel.
Click Add or remove programs.
Double-click the unwanted application.
Confirm that you want to remove it.
In non-techie terms:
Make sure to use the alternative removal guide that we present below if you find manual removal and a bit too complicated. These instructions have been crafted by our researchers to make the termination process simpler. By following these instruction you will delete EnjoyWiFi in an automated manner.