Do you know what EnhanceSoft is?
Computer users often install dangerous malware without even suspecting it. Even though EnhanceSoft is not the most malicious infection that you might come across, there is no doubt that this ad-supported program is not reliable. If you do not remove EnhanceSoft from your operating system right away, you might encounter misleading advertisements, and intrusive cookies might start collecting information about your virtual activity. To some users this kind of activity does not seem attention-worthy, but our malware researchers warn that the removal of this advertisement-supported program is very important. Continue reading to learn more about this.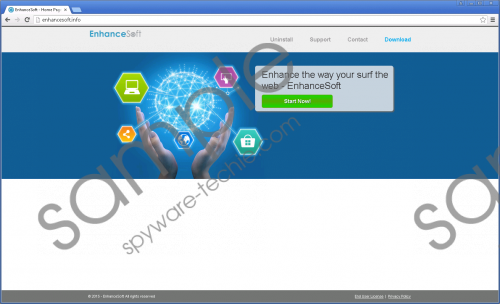 EnhanceSoft screenshot
Scroll down for full removal instructions
EnhanceSoft was developed by SuperWeb LLC. Have you heard of this company? Our malware researchers are already sick and tired of the unreliable advertisement-supported programs created by this company. Some of them include BeepieBear, JoomiWeb, Intense Results, and they require removal for the same reasons that we suggest deleting EnhanceSoft. Any of these advertisement-supported programs can showcase the offers and ads of unreliable parties. The adware servers representing these ads are not reliable, and it is possible that they will be used by cyber criminals who might user malvertising for malware distribution and malicious scams. Even though you will not find information about this on the official website, enhancesoft.info, our researchers regretfully inform that this could happen. Unfortunately, the infections that might come bundled with this adware could be even more dangerous. Needless to say, it is a must to remove EnhanceSoft-related infections.
Most users, who find EnhanceSoft on their operating systems, choose between the manual and automatic removal options. Even though the manual removal option can save money, not many users have enough experience to delete EnhanceSoft and other malicious infections. In fact, even more experienced users might have trouble removing malware and protecting their operating systems. Due to this, we suggest installing security software that could protect your PC and, simultaneously, delete already existing threats. Start a discussion in the comments section below if you have more questions about the removal of EnhanceSoft.
Remove EnhanceSoft
Remove from Windows XP
Open the Start menu and click Control Panel.
Double-click Add or Remove Programs.
Select the Remove the undesirable application.
Remove from Windows Vista or Windows 7
Open the Start menu and click Control Panel.
Move to Uninstall a program and locate EnhanceSoft.
Right-click the program you wish to delete and select Remove.
Remove from Windows 8 or Windows 8.1
Simultaneously tap keys Win+R to launch RUN.
Type Control Panel and click OK.
Move to Uninstall a program.
Right-click the program you want to delete and click Uninstall.
In non-techie terms:
EnhanceSoft does not deserve your trust, and, if you have installed this program onto your PC, you should remove it as soon as possible. While it is possible to delete EnhanceSoft manually, we suggest leaving the removal of this advertisement-supported program in the hands of automatic malware removal software. It is most important for this software to remove EnhanceSoft-related infections and protect your operating system.