Do you know what Emotypecon is?
People who communicate emotionally will surely find Emotypecon a helpful application. The application keeps its finger on the pulse of emoticons and presents you with all the latest smiley faces. Your online friends will probably be fascinated with how you express your feelings. But your fascination will quickly be replaced with the opposite emotions. The reason is that Emotypecon is an adware program that is capable of attacking you with pop-up advertisements even when you just work on your PC and do not surf the Web. The only way to restore the present comfortable usage of your computer is to delete the adware program from your system.
While researching this application in our internal laboratory, we have found that Tuto4Pc stands as a developer of Emotypecon. That company claims to be providing innovative online marketing solutions. However, it is responsible for such programs as mySoftToday and GamesDesktop. Both of these programs can come in bundles with other applications. Emotypecon may enter your computer in a package with freeware as well. It is always better to rely on trustworthy sources and download software only from official distributors. But in case you have downloaded some free application from a file sharing website, please pay your utmost attention to its Terms and Conditions. You will be surprised how many unwanted programs you are able to prevent from entering your device that way.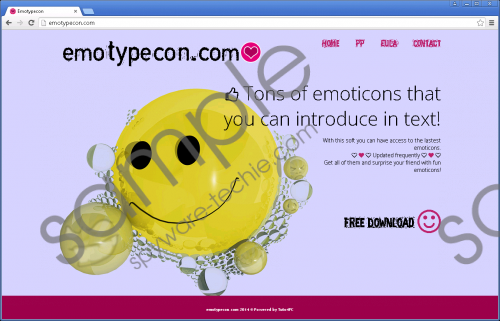 Emotypecon screenshot
Scroll down for full removal instructions
The working field of Tuto4Pc raises a question: What do emoticons have in common with online marketing? They hardly have anything. But this program should somehow be used for the marketing goals of its developer. And this is done using the advertisements that this application generates and displays. Probably, your every single click results in profit for Emotypecon as its business partners pay the creators of this application. But at the same time, every single click may turn to be very costly for you. The reason is that this program allows third parties to serve their advertisements. You may never know whether the third-party products and services are trustworthy or not. Emotypecon does not know that as well as it has no control over any third-party content at all. Please note that this application is so annoying that it even opens your Internet browser and shows you ads through it.
All in all, Emotypecon causes too many suspicions for a reliable application. No one can guarantee that you will face no unwanted consequences if this program remains on your device. Moreover, you may already be the unlucky owner of some kind of computer virus. You could receive it in the same software bundle with Emotypecon. Or you might have opened a door for it while clicking on the ads. In any case, all the unwanted applications, including this adware program, should be removed ASAP. You can do it yourself just by thoroughly following the guide you will find below. Or you can use a legitimate antimalware program that will detect all programs with suspicious intentions and then wipe them out from our system.
How to delete the unwanted program
Windows XP
Click the Start button.
Navigate to Control Panel and launch Add or Remove Programs.
Remove the unwanted program.
Windows 7 or Windows Vista
Access the Start menu and open Control Panel.
Go to Uninstall a program and remove Emotypecon.
Windows 8 or Windows 8.1
Press the Windows key + I to launch Settings.
Click on Control Panel and open Uninstall a program.
Delete Emotypecon.
Windows 10
Right-click the Windows logo.
Select Programs and Features and uninstall Emotypecon.
In non-techie terms:
Emotypecon is an intrusive adware program that you should not keep on your PC in any case. It offers you access to all the new emoticons for free, but shows you a lot of ads thus disturbing your computer usage. Keeping your browsers closed will not help as Emotypecon is capable of opening a browser and showing you advertisements itself. Remember that even an accidental click on any of the ads could cause a real blow to your computer. Cons of this application outweigh its pros by far, so use our instructions and get rid of this program.