Do you know what Ember Relax Background is?
Ember Relax Background is a suspicious browser extension, so even though it can be found at the Chrome Web Store and does not look harmful at all, you should not click on the installation button. Our researchers agree that there is a possibility that this piece of software is not 100% trustworthy too. Because of this, they have categorized it as a potentially unwanted program. We can assure you that these are not harmful malicious applications, but, unfortunately, we cannot call them reliable too, so we recommend getting rid of them. Luckily, it is usually not hard at all to remove them. Speaking about the Ember Relax Background removal, it could be erased via the browser's add-ons manager since it is an ordinary browser extension. According to our malware analysts, Ember Relax Background should be compatible with only one browser Google Chrome, so it should not take long to remove it. You will find more information about its removal in this report but, first, let's talk about how it acts.
Ember Relax Background is presented as "a cosmic background where you could control color, speed and size of elements are flowing at the screen," which might really sound appealing. 31 559 users have already installed it on their computers expecting that it will be a beneficial application too. We are not going to talk about its usefulness, but we are sure for one thing – it cannot be trusted fully. The first symptom showing that it might be one of those untrustworthy applications is the fact that it does not have both EULA and Privacy Policy, which suggests that there might be things it wants to hide from users. According to our specialists, such suspicious browser extensions are often used to collect information about users, so there is a possibility that Ember Relax Background has been developed with the intention of receiving some information too. Of course, a potentially unwanted application will not steal your online banking credentials or your passwords, but it might record such information as websites you visit, advertisements you find interesting and click on, links you click, and a bunch of technical details about your computer, including OS version, browser type, Internet Service Provider, IP address, and more. All these details belong to the non-personally identifiable information category, i.e. they cannot be used to identify you, but it does not mean that you should let a potentially unwanted application gather them. They might be disclosed to third parties that have malicious intentions, and you really do not want this, believe us.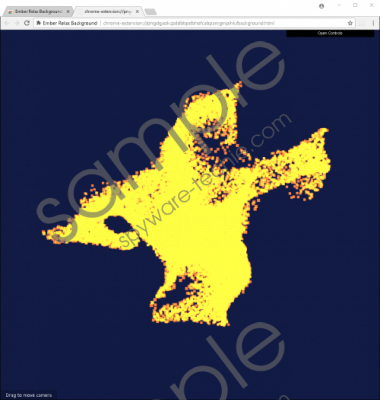 Ember Relax Background screenshot
Scroll down for full removal instructions
Our specialists have analyzed how Ember Relax Background is distributed too. It has turned out that the Chrome Web Store (https://chrome.google.com/webstore/detail/ember-relax-background/pngdgaokcpddbbpdbhofcabpamgmpihk) is not the only place it can be downloaded from. As has been observed, it also comes from pop-ups, which might explain why so many users have already installed it on their computers. If you are one of them, we suggest that you get rid of it. Potentially unwanted programs are not real malware, but they are definitely not good software. Since hundreds of potentially unwanted applications are available on the market, there is a possibility that you will find new potentially unwanted software installed without your permission again if you do nothing to protect your system against untrustworthy applications today. We do not say that you must ensure the system's protection all alone. Instead, we recommend that you install a security application and always keep it enabled on your system.
If you have found Ember Relax Background installed on your computer without your knowledge or have not found it useful at all, you should disable this browser extension today. If you have never deleted any add-on before, use our removal guide. Reliable antimalware scanners could recognize Ember Relax Background as a potentially unwanted program and delete it too, so you can use one of them to clean the system instead.
How to delete Ember Relax Background
Google Chrome
Open Google Chrome.
Tap Alt+F.
Click More tools and select Extensions.
Select the extension you want to remove.
Click Remove.
In non-techie terms:
Ember Relax Background might look useful, but you should not install it because it is a potentially unwanted program, meaning that there is a possibility that it will act in an undesirable way. According to specialists, there is a possibility that this extension might be used to collect information about users. Luckily, it can be removed quite easily at any time.